Posted on
Cowboys Drop Game in Fairview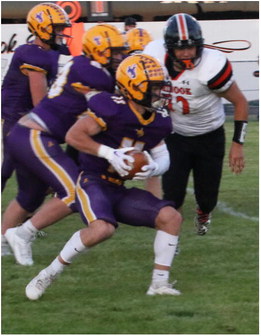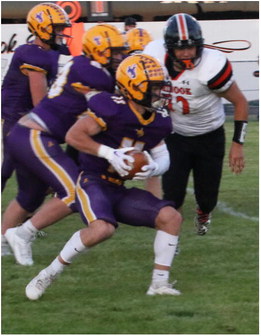 The Culbertson Cowboys put up a good fight before falling to top-ranked Fairview, 46-20, in eight-man football action in Fairview on Saturday, Oct. 7.
Culbertson struck first in the contest as Carson Solem scored on a 13-yard run in the opening quarter.
Fairview scored 17 points in the second quarter on a 64-yard pass play from Tyler Tjelde to Jaxon Vitt, a run from the one by Tyler Loan and a 31-yard field goal by Loan for a 17-8 half-time margin.
The Warriors increased their lead to 24-8 when Brock Scholothauer scored on a two-yard run early in the third quarter. Loan then intercepted a pass and went 24 yards for a touchdown to put the margin at 31-8.
Culbertson kept battling as quarterback Bridger Salvevold broke loose for a 56-yard touchdown run to cut the gap to 31-14.
After Fairview struck back on an 18-yard touchdown pass from Tjelde to Wyatt McPherson, Salvevold connected with Reese Moon on a 36-yard touchdown strike for a 38-20 game.
Fairview added a touchdown in the fourth quarter on a four-yard pass from Tjelde to Deacon Gackle with 9:08 remaining.
The Cowboys will finish their season with a home game against Poplar on Thursday, Oct. 12.