Posted on
Public Enjoys Bigger Sky Kids' Art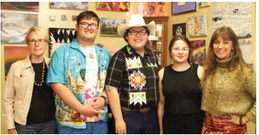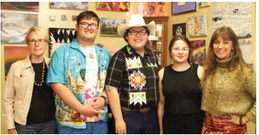 A youth artist reception for the Bigger Sky Kids was well attended at Doc 'Z/Missouri Breaks on Friday, Sept. 29.
Both program director Barb Olson and art instructor Cathryn McIntyre were pleased with the turnout of both the public and the artists involved.
Usually, Bigger Sky Kids hold the event in August, but officials decided to move the celebration to homecoming week this year.
"It's the pinnacle event at the end of their year," McIntyre explained.
Work was showcased from local youth artists Brayden Bearcub, Dana Buckles, Justyne Martell, Stephanie Martell, Thomas Moudree, Hope Pipestem and Kiara Russell.
McIntyre, who has been an art instructor for more than 20 years, said it's very beneficial for the young students to have their art be recognized.
She has been working with art students at Bigger Sky Kids once a week since 2018.
"This group is the only group I've ever taught consecutively for five years," McIntyre said. "Our art room has magical energy. I feel we all look forward to it."
Once students reach high school, they are encouraged to become mentors for the art program at Bigger Sky Kids.
"Art is just another launching pad to their future," McIntyre explained.
One of her goals is for students to receive college scholarships through their art. She attended college on a full-ride art scholarship and says that's the reason for her successful art career.