Posted on
Christian Speaks To Students For Native American Week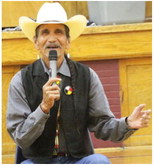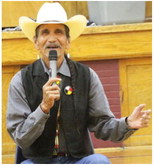 Speaker Tommy Christian stressed the importance of culture and character during a presentation at Southside Elementary School as part of Native American Week on Tuesday, Sept. 26.
The famous pow-wow announcer welcomed students in his own language. "On this day, I speak to you from my heart," he noted.
Christian told the students that they are the future.
"My relatives, make yourself strong," he said. "Your relatives depend on you."
He explained to students how they don't represent only themselves but also represent their families, tribe and community.
"You always have to be mindful of how you behave," Christian said.
He stressed the importance of education and that students should urge their parents to take them to school.
"You need to be here each and every day," Christian said. "Then, when you're in school, you behave, you listen."
He explained that it's important to listen to their teacher and that school is really a big family.
"You represent your family," Christian said. "You're all related in your own way."
He also urged the students to make sure that they listen and respect their elders.
Christian noted that he has gone 44 years without drugs or alcohol. The students applauded the comment.
"I was taught to behave that way," he said.
After asking how many of the students have attended a pow-wow, he talked about the grass dance society made up of 8-18 year olds. He said the society was similar to a school as it taught how to be a scout.
"What you guys are doing is learning to become a scout today," Christian said.