Posted on
Bulldogs Battle Back For Homecoming Win Over Savage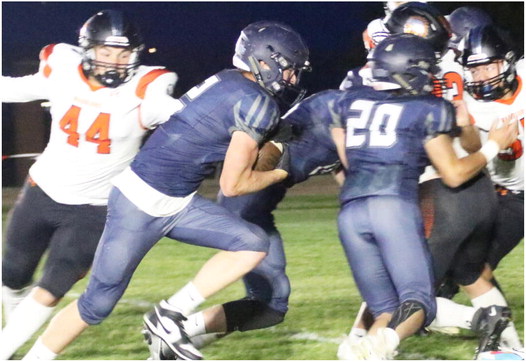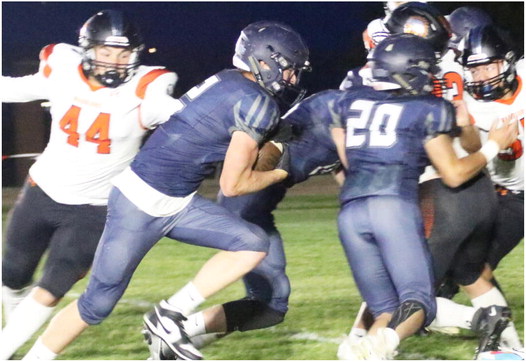 The Bainville Bulldogs turned the game around in the second quarter and went on to down Savage, 40-13, for their homecoming football victory on Saturday, Sept. 30.
Savage held a 13-6 advantage and had the ball near the Bainville 30 when the Bulldogs' defense stepped up in a big way. Two tackles by Samuel Butikofer forced a fourth-and-nine situation. A short pass to Cade Tombre was then stopped short of the needed yardage due to a great open-field tackle by Cayden Boyd.
On second down from the 30, Boyd raced 50 yards for his second touchdown of the night to close the margin to 13-12 with 3:32 left in the half.
After Bainville's defense stopped Savage's next possession, a seven-yard punt return by S. Butikofer set the Bulldogs up at the Savage 30.
The Bulldogs quickly reached the end zone on a 40-yard pass play from tailback Boyd to S. Butikofer with 1:36 left in the half for an 18-13 lead.
The Warriors, who struggled with injuries throughout the contest, advanced into Bainville territory early in the third quarter on a 41-yard pass completion from Sayer Erickson to Hunter Sanders. A nice defensive play by Logan Josephson helped end Savage's threat.
Bainville then used two long gains by Boyd for a first down at the Savage 23. Boyd, a senior, broke loose for an 18-yard touchdown run with 4:59 left in the third quarter. Alex Strickland kicked the conversion for a 26-13 advantage.
Bainville's next offensive possession started on the Savage 36 after a punt return by Boyd. Dashes by Boyd and a penalty moved the ball to the eight. Savage's defense held tough as the Warriors prevented Bainville from getting in from the one twice including tackles by Connor Lyons and Erickson on fourth down.
After the Bulldogs' defense stayed solid, Bainville reached the end zone on a 15yard completion from Rowan Wilson to Trevor Robertus for a 32-13 lead with 7:11 remaining.
Bainville received a safety when a bad snap on a punt attempt went out of the end zone. S. Butikofer then returned the ensuing kick 47 yards for a touchdown to put the margin at 40-13 with only 4:25 left.
The Bulldogs struck first in the conference game on a 65-yard scoring drive. Boyd scored from the one with 6:34 left in the opening quarter.
Savage responded with a 52-yard scoring drive capped with a nine-yard run by Zane Pilgeram at the 3:04 mark. Tombre passed to Erickson for the conversion and a 7-6 lead.
The Warriors increased their advantage to 13-6 when Tombre made a leaping catch of a pass from Erickson on an eight-yard play with 55 seconds left in the first quarter.
The Bulldogs will travel to Richey on Friday, Oct. 6, for a contest against the Richey/ Lambert Fusion.