Posted on
Cowboys Stop Plentywood For Homecoming Victory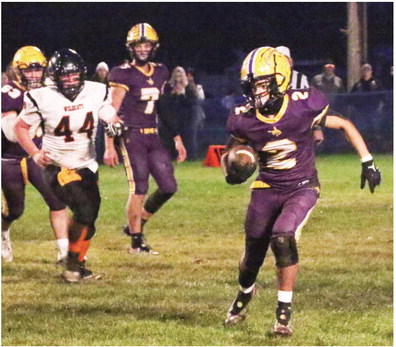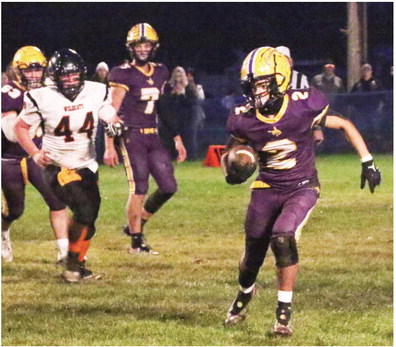 The Culbertson Cowboys celebrated their homecoming in a big way with an impressive 34-6 victory over previously undefeated Plentywood on Saturday, Sept. 23.
"It was definitely a nice team effort and a glimpse of what the team can look like when they play a sound game," Culbertson Coach Brian Manning said.
Plentywood opened the contest with an impressive drive inside the Culbertson 25, but defensive plays by Mark Kirkaldie, Carson Solem and Micah Eagleboy ended the threat.
Culbertson's offensive attack then relied on the running of Reese Moon, C. Solem and quarterback Bridger Salvevold to head into Plentywood territory. On a second-and-18 play from the 38, Salvevold connected with Brooks Solem on a pass and the freshman broke away from a tackle at the 26 en route to the end zone. Salvevold passed to Kirkaldie for the conversion and an 8-0 lead with 3:03 left in the first quarter.
After Plentywood's next possession ended on a knocked down pass by Kirkaldie, the Cowboys started their next drive on their own 29. On a third-and-one play, Salvevold battled for five yards for a first down at the Wildcat 36. Three more runs by the junior quarterback produced a first down at the four.
On second down from the one, Salvevold scored for a 14-0 advantage with 9:06 left in the half.
A fumble recovery by Plentywood's Ty Shackelford ended Culbertson's next scoring threat, but the Wildcats couldn't convert the turnover into points.
The Cowboys had the ball inside the Plentywood 10 during the half's final minute, but the threat ended with an interception.
After the Wildcats failed on an on-sides kick attempt to open the second half, the Cowboys marched 35 yards for their third touchdown of the night. The running combination of Moon and C. Solem moved the ball down to the nine for a first down. Two plays later, C. Solem scored on a three-yard run to put the margin at 20-0 with 8:49 left in the third quarter.
On Culbertson's next possession, Salvevold turned a mistake into a great play. After at first fumbling the snap, Salvevold recovered for a powerful 35-yard touchdown run. C. Solem got in for the conversion to put the margin at 28-0 with 6:30 remaining in the period.
Plentywood got on the scoreboard when Carson Solbert connected with Aiden Nelson on a four-yard touchdown pass with 8:21 remaining.
The Cowboys responded with a 42-scoring drive that was capped by a 10-yard keeper run by Salvevold with 4:19 left in the conference contest.
Salvevold finished with 159 rushing and 47 passing yards. Moon gained 70 rushing yards and C. Solem added 51 rushing yards.
Culbertson will return to action with a game at Fairview on Saturday, Oct. 7.