Posted on
Graham Enjoys Being Active At School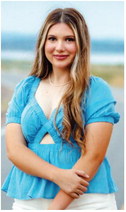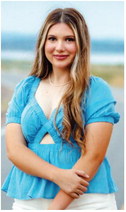 It took Wolf Point High School senior Nevaeh Graham a little while to start getting involved in school activities, but she is now making up for lost time.
Graham said she decided it was important to become more involved during her junior year.
"I decided to get out of my shell," Graham noted.
This is her second year on the school's cheer squad.
"It's like we're all one, big family, most days," Graham said of cheer.
Her other activities include tennis, National Honor Society and pep club.
Last tennis season, she enjoyed success playing doubles with Azalei Ackerman for the Wolves.
"It was very, very fun," Graham said of the experience. "I enjoyed it a lot."
This spring, she will compete in singles for the Wolves. She improved her game by playing at least twice a week during the summer. "I hope to make it to state," she noted. Regarding what she likes best about National Honor Society, she said it's putting other people first.
"I like that they help with our community," Graham said of NHS members. "We help people without getting anything in return."
As far as role models, she mentions family members. "They teach me to be resilient and not let things get me down," Graham said.
She says her favorite class is English/college composition with Douglas Evans. "I like that he's not shy of saying what he wants and what he expects from us," Graham said. "I like that he challenges us."
Her favorite teacher is her mother, Leslie Larson. "She teaches in a way so you don't feel like you're in school," Graham explained.
After high school, Graham plans to attend the University of Montana and study forensics and anthropology. She hopes to become a forensic science technician.
"It's an interesting way to see how the body works," Graham said.
Her advice to others is to have fun and do what makes you happy.