Posted on
Cowgirls Fight Off Lustre In Conference Volleyball Play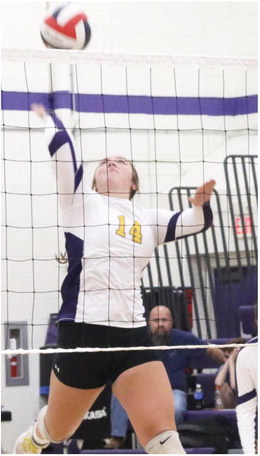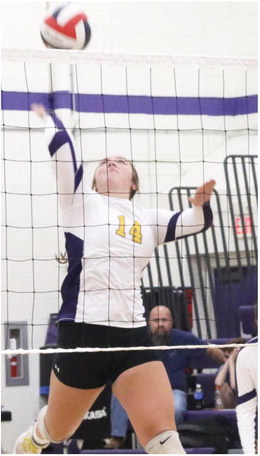 In an emotional roller- coaster type of volleyball match, Culbertson edged Lustre in five sets on Saturday, Sept. 16. The Cowgirls won by a 25-16, 25-11, 19-25, 1225, 15-9 final.
During the first set, a kill and four aces by Destiny Thompson led Culbertson to a 14-6 advantage. Aces by Ayden Ator and a spike by Mariana Burciaga increased the margin to 18-7.
The Cowgirls scored on an ace by Ivy Colvin and a tip by Thompson down the stretch to take the opening set in front of their home fans.
The net play of Leandra Perkins and Thompson along with the serving of Colvin led Culbertson to an 11-1 advantage in the second set.
After an ace by Burciaga put the Cowgirls up 17-6, Lustre battled back to 18-9 on kills by Grace Brown and Alexa Reddig. A kill by Thompson increased the gap to 21-11 and then Catherine Donaldson served for three straight aces. A kill by Thompson ended the second set.
Ahead by a 13-10 margin in the third set, the Lions used the serving of G. Brown to gain a 19-10 advantage. A kill by Lauryn Holzrichter put the score at 20-10.
Kills by Reddig and L. Holzrichter moved the Lions ahead by a 23-12 margin. Culbertson fought back on the hard serving of Jazzmin Fugere, but the Lions earned a 2519 victory in the third set.
G. Brown scored a kill and block to lead the Lions to a 13-8 advantage in the fourth set. Aubri Holzrichter served an ace for a 17-11 lead.
Ahead by a 17-12 margin, the Lions accounted for the final eight points of the fourth set. Highlights included two net winners by Reddig, a tip by A. Holzrichter and an ace by Hannah Marasco.
In the fifth and deciding set, the Cowgirls jumped out to a 6-0 lead on the serving of Fugere.
After a kill and block by Reddig, Culbertson's Thompson scored a kill for a 7-2 advantage. With the score at 9-4, Culbertson's Perkins served a pair of aces.
Two tips by A. Holzrichter kept the Lions close, but an ace by Thompson helped Culbertson grab a 14-8 lead. The Lions stayed alive on a hit by Reddig before the Cowgirls earned a 15-9 victory.