Posted on
Red Hawks Roll To 64-14 Victory Over Savage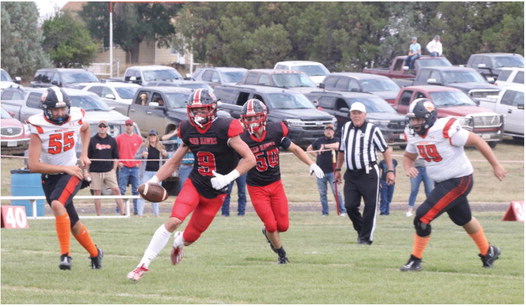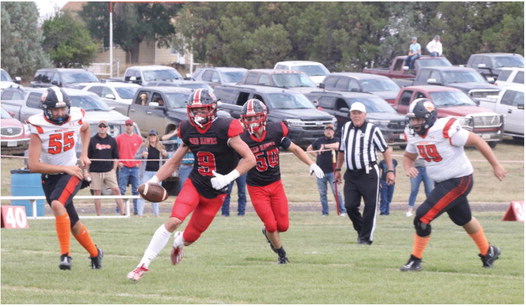 The Froid/Lake Red Hawks scored touchdowns in about every fashion possible as they remained undefeated with a 64-14 victory over Savage on Saturday, Sept. 9.
The Red Hawks, playing their first home game of the season, faced an early test when a 66-yard run by Cade Tombre put the Warriors at the Froid/Lake 11. The Red Hawks kept Savage out of the end zone thanks to solid defensive plays by Mason Dethman and Nate Stentoft.
After runs by Daniel Forizs and Landen Kelm moved the Red Hawks into Savage territory, quarterback Joseph Robertson hit Dethman with a 24-yard pass to the five. On third down, Kelm scored on a four-dash dash. Dethman kicked the conversion for an 8-0 lead.
The Red Hawks also scored on their next possession when Dethman broke away for a 28-yard touchdown run. The senior's kick put the margin at 16-0 with 3:29 left in the quarter.
Savage's next possession ended in disaster when Dethman recovered a fumble and went 13 yards for a touchdown with 2:35 remaining in the opening period.
The Warriors advanced into scoring position when a halfback pass from Zane Pilgeram to Sayer Erickson resulted in a 61-yard gain to the Froid/Lake 10. Savage went on to score on a 13yard throw from Pilgeram to Hunter Sanders with 1:01 left in the quarter.
On the ensuing kickoff, Forizs raced 73 yards to the end zone. Dethman added the kick for a 30-6 advantage.
Strong defensive plays by Cian Logan and Stentoft forced the Warriors into a fourth-and-11 situation on their next possession. A pass attempt resulted in Dethman intercepting a pass and going 60 yards for a touchdown.
The Warriors accounted for a 62-yard scoring drive late in the half. Savage reached the end zone on a 23-yard pass from Erickson to Sanders. Tombre kicked the conversion to close the margin to 36-14.
The Red Hawks advanced into Savage territory on a 37yard pass play from Dethman to Jacob Martensen. Froid/ Lake went on to score on a three-yard throw from Dethman to Forizs for a 42-14 halftime advantage.
The Red Hawks kept rolling in the second half as Forizs scored on the first play from scrimmage.
A pass from Dethman to Robertson increased the Red Hawks' lead to 56-14 in the last minute of the third quarter. Froid/Lake's final touchdown came on a reception by Forizs. Dethman added the kick for a 64-14 final.
The Red Hawks will host Richey/Lambert on Saturday, Sept. 23.