Posted on
Jo Ann Russell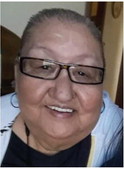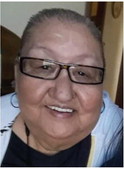 Jo Ann Russell, 72, of Poplar died Aug. 27, 2023, in Billings.
She was born to Vida (Walking Eagle) Muskrat and Daniel Russell on Feb. 16, 1951, at the Poplar hospital in Poplar. She grew up in Poplar and attended schools in Poplar, later earning her G.E.D.
She married Darrell Reddog Sr. in 1968. They were married for 18 years. To this union, four children were born. They later divorced but remained friends up until Darrell's death in 1999. Her longtime companion was David Tuttle.
She worked for the Bureau of Indian Affairs as a realty clerk for many years. She also worked for the Fort Peck Tribes TERO Department and as a process server for the Fort Peck Tribal Courts.
She loved cruising, being with family and friends joking, had a warm heart and great sense of humor. She always had a smile, making someone laugh or teasing. She will be remembered by her compassion for others and being there for family.
She is survived by daughter, Farrell Simons;
nine grandchildren; eight great-grandchildren; and sister, Bonnie Menz.
She was preceded in death by her sisters, Catherine Russell and Isabel; brothers, Ralph and Lewellyn, Davey, Desmond Sr. and John Muskrat; daughters, Tammy and Tracy Reddog; sons, Darrell Red Dog Jr. and Richard Russell; and grandchildren, Maurice Morsette, Lane Ferguson, Roxanne Morsette and Kristen Ferguson.
Her funeral was held Friday, Sept. 8, at the LDS Church in Poplar. Interment was at the Poplar City Cemetery. Clayton Stevenson Memorial Chapel was entrusted with the arrangements.