Posted on
Bainville Knocks Off Culbertson During Volleyball Action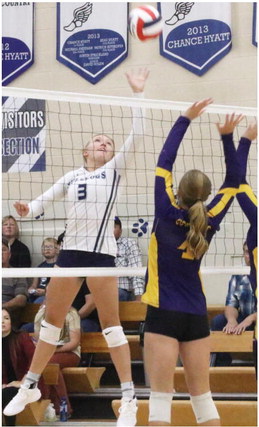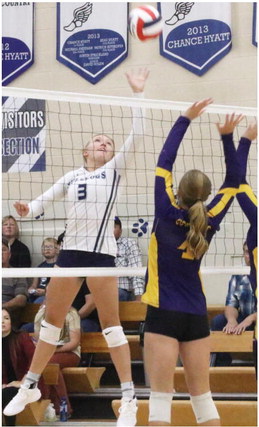 After a rocky start, Bainville's volleyball squad emerged with a four-set home victory over Culbertson on Thursday, Sept. 8.
The Bulldogs won by a 2426, 25-14, 25-13, 25-18, final.
Culbertson jumped out to a 6-1 lead on Ayden Ator's service. The Cowgirls still led 15-9 on a kill by Jazzmin Fugere, a tip by Ator and a kill by Thompson.
Bainville battled back to 16-13 on a kill and ace by Lila Butikofer.
Culbertson used the serving of Fugere and net play of Thompson to gain a 2419 advantage. The Bulldogs responded with the next five points, including four on Johnna Ryder's service, to produce a 24-24 deadlock. Brecklyn Pippenger accounted for a block and a kill during the streak.
The Cowgirls bounced back with a kill by Thompson and an ace by Ator to win the first set, 26-24.
The second set was even at 12-12 until Bainville gained the upper-hand on tips by Elsie Wilson and Hailey Berwick. Kills by Berwick and Lila Butikofer put the Bulldogs up 18-12.
After a tip by Fugere closed the margin to 18-14, the Bulldogs ran off the last seven points of the set behind the net play of Berwick and serving of Ryder. Kills by M. Pippenger and Berwick along with a tip by Kendra Romo led the Bulldogs to a 16-11 advantage in the third set.
Leading by a 19-13 margin, the Bulldogs struck for the final six points of the third set as the powerful net play of B. Pippenger and M. Pippenger highlighted the action.
In the fourth set, the Cowgirls stayed close as kills by Thompson and Mariana Burciaga kept Culbertson just a point behind. Bainville moved ahead 21-17 on kills by Berwick and Butikofer.
With the score at 23-18, the Bulldogs ended the match on a kill by Berwick and an ace by Wilson.