Posted on
Vehicle Drivers Need To Remember School Bus Safety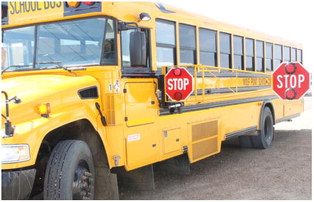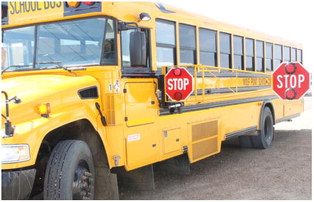 Area drivers are reminded to follow proper safety requirements when seeing school buses again this year.
Shawn Boysun, bus maintenance supervisor in Wolf Point, explains that some drivers throughout the region are going around school buses' extended stop arms.
"A lot of schools are seeing the same thing," Boysun said. "They drive by it and don't stop."
Boysun reminds drivers to slow down and be prepared to stop when they see yellow lights. Drivers must stop for red lights.
"If you see a yellow bus and it's slowing down, it's going to stop," Boysun said.
When a school bus that has stopped in order to receive or discharge children has actuated flashing red lights, a driver of a vehicle approaching the bus from either direction must stop not less than approximately 30 feet from the bus and may not proceed past the school bus until the bus ceases operation of its flashing red lights. Fine can be as much as $500.
If a driver of a motor vehicle overtakes a stopped school bus on the right side of the school bus, penalties include a fine as much as $1,000, a possible imprisonment of 6 months or both.
It is also a violation for the driver of a motor vehicle to make contact with any portion of a stopped school bus, including an extended stop arm, or to make contact with a school child within 30 feet of a school bus. A violation under this subsection is a misdemeanor and is punishable on conviction by a fine of not more than $500.
Boysun stresses that young children are often excited about getting on the bus or returning home, and they aren't always thinking about looking out for traffic.
Drivers should also be aware of activity buses that might make stops to drop off students while returning from an event.
He reminds residents that many schools have cameras on the exterior of their buses in order to record traffic violations.
"Everybody is in a hurry," Boysun said. "They need to slow down a little to give our drivers and children a chance."