Posted on
Poplar Boys Win Top Team Honors At Meet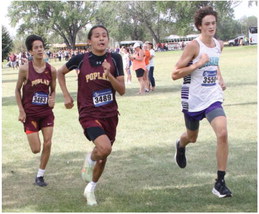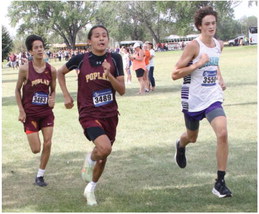 Poplar's boys' cross country team opened its season in fine fashion as the Indians earned first-place team honors at the Wolf Point Invitational on Friday, Aug. 25.
The Indians ran away with the title by finishing with 35 points. Williston Trinity placed second with 46 points. Plentywood took third with 81 points.
"Both our boys and girls really did well," Poplar Coach Karolyn Kohl said.
She was pleased that the Indians had three finishers in the top 10.
Miles Boxer earned third place with a time of 19:00.18.
Raylando Red Eagle ran the course in 20:01.54 for fifth place.
Geordy Medicine Cloud placed ninth at 20:40.71.
Right outside of the top 10 for the Indians were Wilder Bearcub at 11th with a time of 20:41.27, Eljin Grey Bear at 12th with a time of 20:46.52 and Dane Moran at 13th with a time of 20:49.98.
"I was really impressed with our second pack," Kohl said.
Navarjo Escarcega took 19th at 21:37.48. Bostyn Azure placed 21st at 21:40.30.
Delray Lilley had a time of 24:05.70 for 34th place. Colton Dupree finished in 36th place at 24:09.93.