Posted on
Lady Wolves To Open Season At Choteau Tournament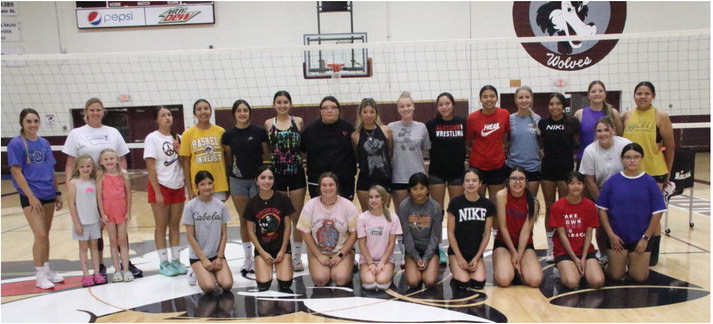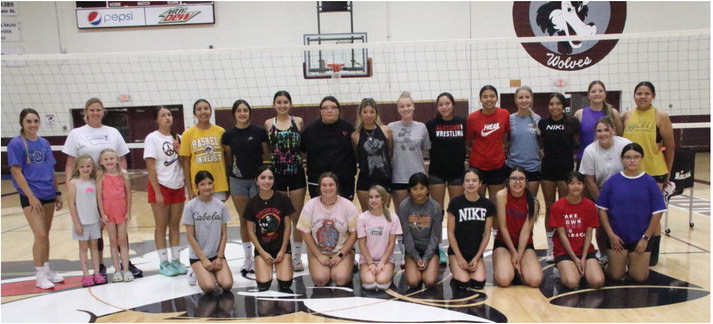 Wolf Point's volleyball team will open its season at the Choteau Invitational on Friday, Aug. 25, and Saturday, Aug. 26.
Other teams at the tournament will include Simms, Ennis, Thompson Falls, Florence/Carlton, Three Forks, Choteau, Ennis, Manhattan, Manhattan Christian, Cut Bank, Conrad, Broadwater, Shelby, Fairfield and Glasgow.
Teams that Wolf Point will face during pool play are Simms, Ennis, Shelby and Broadwater.
The tournament should give the Wolves a good measuring stick to begin the season.
Returning starters for the Wolves include senior Kylie Rodenberg, senior Joli Beston, senior Sierra Hamilton, senior Kaleah Miller-Toves, senior Azalei Ackerman and junior Gabrielle Four Bear.
Other returning letterwinners are junior Keeley Blount-Henderson, junior Ameliya Doney, sophomore Kashlynn Speak Thunder, sophomore Lauren Rodenberg and senior manager Kaylee Johnson.
Coach Karli McGowan feels the Wolves will feature a strong front line this season. Hamilton earned second team All-Conference honors last season and is a powerful hitter. Miller-Toves is a lefty who always surprises the defense and Beston has great hands as a blocker.
"We did some moving around of positions during the season last year, which increased our blocking and kill percentages," McGowan said.
In addition, Four Bear, Blount-Henderson and Doney are ready to step up for Wolf Point's attack game.
Kylie Rodenberg will serve as the squad's main setter.
"She's super excited to get the opportunity to set all the way around this year," McGowan said of the threeyear letterwinner. "She's always been a talented setter. Experience and maturity will be on her side this year."
The coach sees passing as the team's main challenge. "Azalei Ackerman is looking to be our defensive specialist, and I have high hopes for her," McGowan said. "Another area we're going to focus on is serving. Last year we gave away quite a few points each game with missed serves. I feel if we can really focus on consistency in both these areas, we'll have a great season."
Assistant coaches are Kendra Bowman and Lindsay Nefzger.
Goals for the season include making it to the district's championship match and earning hardware at the divisional tourney. One change this season is that Fairview is part of District 2B.
"I really like how coachable this group of girls is. As a first-year coach last year I made some line-up changes that put some of them out of their comfort zone at first, but they all rose to the challenge and gave it their all," McGowan said. "I'm hoping for a stronger sense of comfort where they are this year and we can really have fun this season. I also appreciate my captains, and their ability to communicate with the coaches and give us feedback."
Wolf Point Volleyball Schedule
Aug. 25-26: at Choteau Invitational Aug. 31: at Harlem Sept. 2: at Baker Sept. 7: at Scobey Sept. 9: Fairview Sept. 14: Poplar Sept. 16: Malta Sept. 21: Glasgow Sept. 23: at New England, N.D. tournament Sept. 28: Scobey Oct. 3: Plentywood Oct. 6: at Poplar Oct. 7: at Malta Oct. 12: at Fairview Oct. 14: Harlem Oct. 19: at Glasgow Oct. 21: Baker Oct. 26-28: District at Glasgow Nov. 2-4: Divisional at Malta Nov. 9-11: State at Bozeman