Posted on
Deputy Receives Valor Award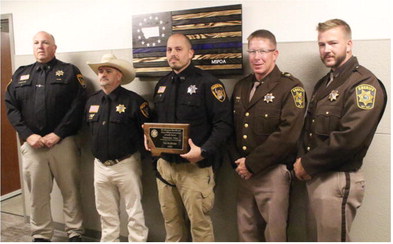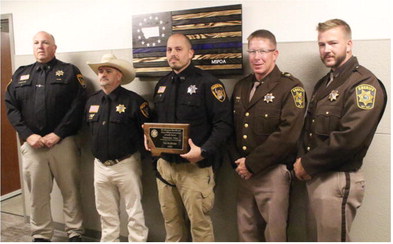 Roosevelt County Sheriff's Deputy Centennial "CJ" Colon was presented a Valor Award from the Montana Sheriffs and Peace Officers Association for his heroic efforts during an explosion earlier this year.
Colon was nominated by Roosevelt County Chief Deputy Patrick O'Connor and the nomination was approved by Sheriff Jason Frederick.
Past board president and Rosebud County Sheriff Allen Fulton, along with Sgt. Joshua Jonas, presented Colon with the honor during a ceremony Thursday, Aug. 17.
The nomination noted that Colon responded to an explosion from a propane leak at a home in Poplar on Jan. 12.
Upon arriving on the scene, he rescued a 17-year-old male and took him to his patrol car. When the teen noted that his 82-year-old grandmother and 7-year-old cousin were still trapped, Colon risked injury by providing comfort to the grandmother and lifting the boy out of the debris and into the warmth of a patrol car. Assisted by other deputies, Colon helped the grandmother leave the scene.
It was noted that Colon went beyond the call of duty in the situation.
Colon said he appreciates the honor. "I don't think I did anything than anybody else wouldn't have done in the situation."
After serving in the U.S. Army for nearly 14 years, Colon returned to the area and became a deputy for the sheriff's office in 2020.
Colon graduated from Poplar High School in 2005 and then joined the Army.
His 13 years and nine months with the Army included tours in Iraq and Afghanistan.
He holds a degree in criminal justice.