Posted on
Berwick Sisters Continue Preparations For Fair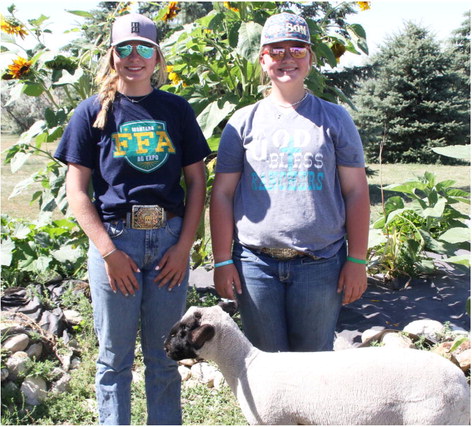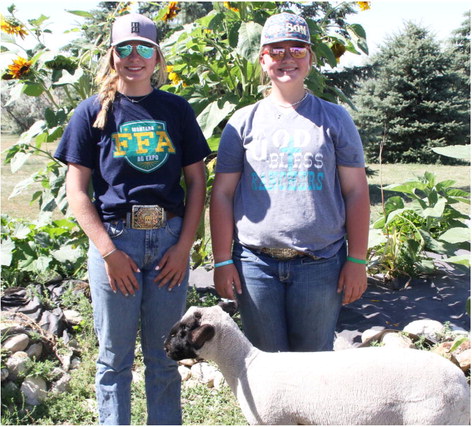 4-H Dedication
It is almost show time for 4-H members across Roosevelt County. The annual county fair is Aug. 8-12 in Culbertson and the event includes the livestock auction starting at 6 p.m. on Friday, Aug. 11.
Tally and Tenley Berwick, who live near Bainville, have solid experience in the 4-H field. Tally, who is entering her junior year in high school, and Tenley, who is entering her seventh grade, become involved in 4-H on the urging of their mother, Tana, who enjoyed great success at fairs while growing up in North Dakota.
"They have ran wild with it," Tana, who is married to Dana, said of their children's involvement.
At last year's Roosevelt County Fair, Tally was the senior grand champion for goat showmanship, grand champion for sheep showmanship, reserve champion for beef showmanship, grand champion for swine showmanship and grand champion for market swine.
Tally said that pigs are her favorite livestock animals to work with on their farm.
"They do have really good personalities," she said. "They are kind of like dogs."
But pigs can also be a challenge at times.
"They are hard to move around," Tally said. "Because they don't sweat, you have to keep their pen muddy. They are always making a mess."
Tenley also earned many honors during last year's fair including grand champion for goat showmanship for beginners, reserve champion for market goats and reserve champion for dairy goat breeding, "A lot of ribbons I have are for dairy goats and reserve horse showmanship," Tenley explaiend.
Two years ago, Tenley was the grand champion for goat reserved.
The highlight of last year's fair for each of them was being a round-robin champion. Tally was grand champion for senior showmanship and Tenley was reserve champion for showmanship beginner. The Round Robin Showmanship Contest gives an opportunity for the champion showman from the 4-H/FFA divisions in each species of large animals to compete head-to-head for best all-around showman honors at the fair. In this contest each contestant is judged on their showmanship skills with each species of beef, swine, goat, sheep and horse.
The Berwick girls are each fairly confident heading into this year's fair. Tally feels good about her chances in the swine competition. Tenley is hopeful that her lamb will fare well.
"She was a bottle lamb, I had to raise myself," Tenley noted about Annie named after Little Orphan Annie. "I was basically her mom. She follows me around like a puppy dog."
The two girls who are members of the Centennial Clovers Club says that 4-H experiences have taught them many valuable lessons. Those lessons include responsibility as the girls need to make sure chores are completed throughout the year. That responsibility might entail keeping baby lambs warm during all hours on cold, freezing nights and then heading to school the next morning.
Tally added that time management has certainly been learned for her. "And you have to do a lot of paper work," she laughed. "There's a lot of it."
A final lesson occurs near the end of the fair when it's time to say farewell to their animals.
"It's really hard," Tenley admitted. Tally added, "Pigs are hard, but not steers. I've never gotten super attached to a steer. I know there's people that do."
Mother Dana explained there are usually a lot of tears in the barn on Friday nights.
"It's another life lesson for them," Tana said.