Posted on
MSU Hosts Japanese Educators To Improve Higher Education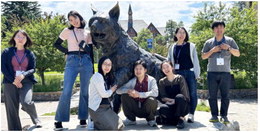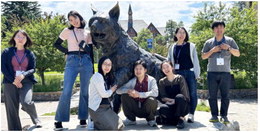 Friendly people, easy access to nature and Bobcat pride were a few of the surprises that have greeted a group of seven Japanese educators visiting Bozeman this summer as part of a 10-month career development program hosted by Montana State University.
The participants in MSU's Long-Term Education Administrators program, arrived at the MSU campus in early June for two months of intensive English language training as well a series of colloquium sessions with various MSU faculty and staff. In August they will travel to partnering universities around the country to deepen their understanding of higher education in the U.S.
"I've been surprised by how kind people at MSU are," said Kazuma Yamada, who works in the student affairs division of Kobe University, one of the oldest and largest national universities in Japan. "They always say hello. So it's a very comfortable environment here." During the second stage of the program, Yamada will head to Columbia University to study how U.S. universities invite and care for exchange students, an experience he hopes can improve his work relationships with international visitors. In the meantime, he is enjoying walks on the local Peets Hill trail, which he has noticed is heavily used by college students.
Nozomi Shoji said the easy access to parks and nature was a pleasant surprise in contrast to the city environment around Tohoku University, where she works in the graduate school. She and her 7-year-old daughter, who is accompanying her on the trip, have been enjoying walks around the campus green areas, especially the duck pond. During trips to Bozeman's historic downtown, she was surprised to see businesses displaying their Bobcat pride with posters and in other ways.
"I think it's amazing, the way people in the whole town show their pride in MSU," she said.
Shoji has also been struck by the diversity of the U.S. compared to Japan and the variety of university experiences available to students. "My perspective has broadened," she said. "I am looking forward to bringing that back to my home university to communicate with students and faculty."
Aoi Oba of Osaka University said the program was a good opportunity to improve her English skills, which would help her work with international students and researchers. In addition to the language study with INTERLINK International Institutes' intensive English program at MSU, she met with MSU's Office of Student Success to learn about how the university provides training and resources to help faculty improve how they engage with students.
"We don't have those kinds of programs," said Oba, who will head to University of Alabama to explore how the university provides career support to international students. "I'd like to create programs like this when I return to Osaka."
The program was created to support Japanese national universities in their efforts to internationalize their campuses. MSU has been hosting the program for over 25 years for the Japanese Ministry of Education in collaboration with INTERLINK International Institutes.
"We are honored to host this long-standing program," Janelle Rasmussen, program director in MSU's Office of International Programs. "Together, we have built a strong network of LEAP alumni who now hold influential positions at universities across Japan. We have also established strong partnerships with excellent U.S. universities who are committed to helping us enhance the higher education landscape and strengthen ties between the U.S. and Japan."
"I am so excited to be a part of this prestigious program and really enjoy collaborating with my Japanese peers," added OIP program manager Makiko Diehl.
Yamada said he would like to stay in Bozeman longer, if he could. "I highly recommend coming here," he said.