Posted on
C&B Site Approved For Annexation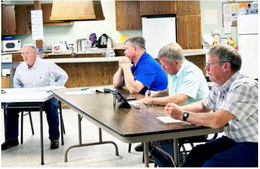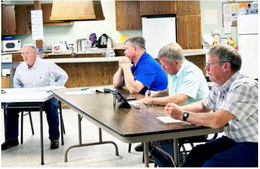 The Culbertson Town Council approved a site selected by C& B Operations for expansion east of Culbertson on U.S. Highway 2 at the July 17 regular meeting.
The site was approved for likely annexation into the town. C& B asked for permission to dig a septic system at the property, as connecting to the sewer would be prohibitively expensive. C& B will connect to municipal water. The council agreed with stipulations, and a resolution of intent is expected at the next regular meeting.
A recent application for exclusion from the town by a resident was also approved for a first reading at the next council meeting, so expect discussion on both annexation and exclusion efforts at that date. The Northington property southwest of town was recently excluded out of the town limits by the same process, setting a potentially dangerous precedent, diminishing the town's tax base and general area.
WWC Engineering's Jeremy Fadness told the council that they should continue documenting damage to streets and area properties from the MDT U.S. Highway 2 Project. Council members reported that big trucks have been regularly circumventing pilot car routes on area side streets.
"We don't know how much stress damage the traffic has caused," said council member Mark Nelson. "We won't really know for months at least, possibly longer."
Fadness thanked council members, Mayor Todd Gabriel and Public Works director Bob Jasper for diligent efforts at documentation on city streets before and after construction began.
"The best thing we can do is document the damage so we can get it over to MDT before they close out the project," Fadness said. He said MDT and contractor Knife River were responsible for repairing damage caused during construction.
Gabriel said he would be liaising with MDT and Knife River regarding the state of central intersections prior to the start of the school year and football seasons. "We have six weeks before the first football game," said Gabriel.
Discussions are ongoing about the Culbertson Economic Development Corporation board structure. The board will seek to spearhead development on Broadway Avenue and Highway 16. Gabriel asked council members to participate and said members of the public and Chamber of Commerce are welcome to participate. Ken Forbregd said during public comment that he was enthusiastic about efforts to utilize the CEDC. "We have a great Main Street," he said, "but we can do better."
Members of the Culbertson Women's Club were on hand to advocate for the municipal pool bathhouse project. Meeting minutes, treasurer's reports and vouchers were all approved. The next council meeting is set for Aug. 7 at 6:30 p.m.