Posted on
Research Day Includes Information About Grasshoppers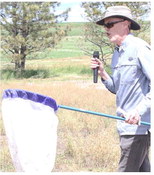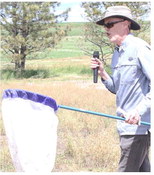 Dave Branson, research entomologist for USDA-ARS in Sidney, provided an insight into the grasshopper outbreaks and management during the Froid Research Farm Field Day on Thursday, June 22.
Branson noted that eastern Montana has experienced extensive outbreaks of grasshoppers in the last two years and this looks like another challenging year of dealing with the pests. Branson said large amount of grasshoppers have been especially reported in western Richland County along with the Sidney and Culbertson areas.
He said the government was planning to conduct spraying in McCone and Garfield counties in an effort to reduce the problem.
Branson explained that grasshoppers are ahead of normal schedule this year, because eastern Montana's weather conditions pretty much went straight from winter to summer.
He added that grasshoppers don't like more rain, because it creates higher grass and more shade. Grasshoppers need sunshine.
Grasshoppers need protein and at least some green vegetation. Outbreaks can rapidly crash when forage quality is poor during last summer. Grasshoppers need heat and food to lay many eggs. When cool, they may stay alive but less egg laying occurs meaning a lower outbreak risk for the next year.
Branson advised farmers to pay attention to where grasshoppers are during August.
"That's when eggs are getting laid," he said. "It gives you an idea of where the problem will be for the next year."