Posted on
Haynes Photographs Gain World-Wide Access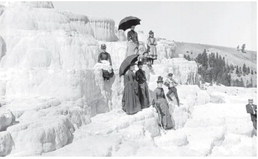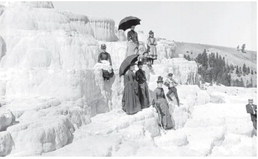 The Montana Historical Society Photograph Archives staff are wrapping up their largest digitization project to date with the well-known photographs by F. Jay Haynes.
Haynes' work is one of the foundational collections of the MTHS Photo Archives. Since the early 1980s, more than 6,000 original glass negatives have been available to in-person researchers in Helena.
"Haynes extensively photographed the development of the Northern Pacific Railroad and Yellowstone National Park from the late 1870s to the 1910s, including notable photography in Montana," said Jeff Malcomson, MTHS photo archives manager. "The dream of widening the accessibility of these nationally significant photographs has long been a goal of the MTHS's photo archivists. A grant from the Montana Legislature in 2021 through the Cultural and Aesthetic Project Grants Program helped transform this goal into a fullfledged digitization project."
Haynes established himself in the photography business doing contract work for the Northern Pacific in the late 1870s as the railroad built across Dakota Territory. His work with the NP took him across the northern tier of the U.S. West through Montana. Haynes' railroad photography is vital historical evidence of the effects of a major transcontinental railroad on several regions of the country.
However, Haynes is best known for his work in Yellowstone National Park, which he first visited in 1881. Haynes established a photo concession in the park and photographed its natural scenery and geothermal features. His photos were undoubtedly the most viewed visual representations of the young but growing tourist attraction.