Posted on
Students Learn Safety During Horse Clinic With Roosevelt County 4-H Program, IronClad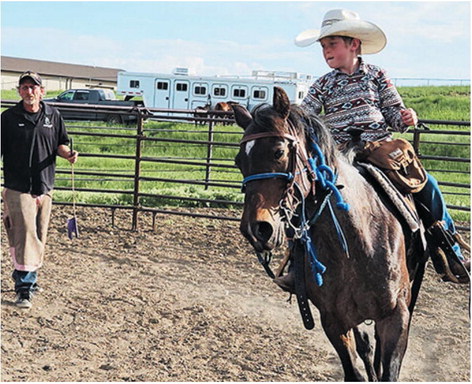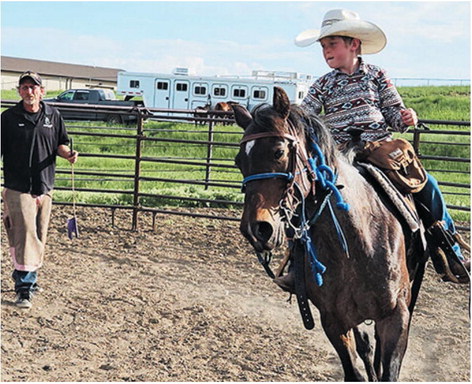 The Roosevelt County 4-H Horse Committee sponsored a horse clinic with Tyrone Irons of IronClad & Co. at the Culbertson Saddle Club on Saturday, June 3. Participants included 15 members from surrounding counties 4-H programs.
To begin the day, Irons introduced himself and gave a short biography of his life - growing up around horses and attending farrier school. He talked about the importance of proper hoof care, safe handling of your horse and having a solid relationship with your horse, farriers and veterinarians.
He said a good farrier will only be as good as the horse's behavior. If your horse pulls and fights its feet while being trimmed or shod, it is dangerous for the farrier and your horse will not get the best trim or shoe placement.
Irons demonstrated the "pay attention" game. This game is to get the horse to focus on the person at the end of their lead, not the person working on their feet or other distractions surrounding them. He also taught the participants to use "chicken wings" with their arms to stop the horse from walking into them.
He stressed safety not only for the riders, but also for the horses. The first horse he worked with was a great example of "in your space". She walked into him, brushed past him and paid no attention to him until he flapped his "chicken wings" or flipped the lead rope. This horse finally calmed down enough to stand for him to clean, pick and trim her hooves. He also explained how a horse will let you know whether pressure is taken off a sore foot and/ or finds relief from the trim by licking its lips.
The afternoon session had Irons working in the round pen with 4-H members and their horses on an individual basis to help them connect. Eighteen horses went through the round pen break-out session. Irons emphasized the importance of a solid "stop and back" on your horse before exiting the round pen. He said that turning is important too, but if a rider cannot stop the horse, then both rider and horse can get injured. The horse committee offered fun arena games to the 4-H members to work on their horsemanship skills while waiting their turn in the round pen.
He said, "It's all about pressure and release, until you get the response you are asking for." He took it upon himself to lead by example, showing the 4-H participants what to do and what not to do on their own horse. He said, "No matter what, never change your answer. If your horse is not willing to follow what you're asking them to do, they are not a willing equine student." After working with Irons in the round pen, participants were able to move to the open arena to practice the skills learned in their one-onone session.
The program was sponsored by donations and fundraising through the Roosevelt County 4-H Program. The Culbertson Saddle Club let the 4-H program use their facilities, and the Fort Peck Community College Department of Agriculture helped with the use of their round pen.