Posted on
Optimists Raise Funds With Mile Of Love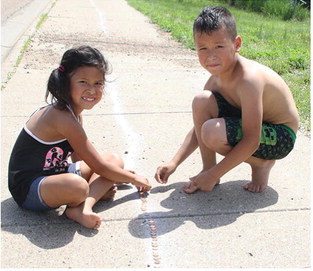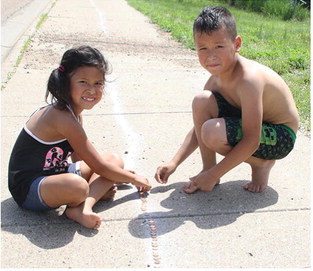 Members of the Wolf Point Optimist Club were busy raising funds one penny at a time for childhood health and wellness projects on Saturday, June 3. With pennies collected from Wolf Point students and community members, club members placed pennies end to end on Sixth Avenue heading north toward the swimming pool.
A.J. Allen, club president, explained that the club usually does the fund-raiser every other year. Optimists used to concentrate on childhood cancer projects, but have since increased its assistance to a broader spectrum of needs.
Focus areas include: * Health lifestyles such as addressing childhood obesity, healthy eating, physical fitness and happy heart advice.
* Chronic diseases including childhood cancer, juvenile diabetes, HIV, multiple sclerosis, muscular dystrophy and sickle cell anemia.
* Mental health including depression, bullying and abuse.
* Disabilities including physical, intellectual and developmental (autism).
Local club members explained that they have assisted local families dealing with expenses because of childhood cancer in the past.
Penny jars are located at Agland Hardware and Wolf City Auto/ NAPA throughout the year.
For more information about the project or the Optimist organization, call Allen at 406-853-3071 or Gloria Sande at 406-650-0107.