Posted on
Miller Leads Horsemanship Clinic At Poplar Saddle Club On Saturday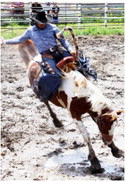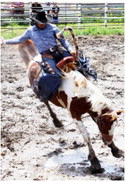 Billings based Brittany Miller led a horsemanship clinic in Poplar Saturday, May 27. Horse-related activities and bronc riding took place at the Poplar Saddle Club over the holiday weekend.
Miller said, "I was instructing the ladies-only ranch bronc school. This is my fourth school of the year."
Miller, who was raised in Dillon, is just getting started as an instructor but she said it's going well.
"I've been riding ranch broncs for 10 years now and this is my first year officially instructing," she said. "I've taught 48 students, ladies, this year alone. I've got five more schools this fall lined up."
Miller said she is best reached through her Western Women's Ranch Bronc Facebook page. Along with the clinics, the site saw meals and activities for all ages.
Instructors — including Leon Old Elk Stewart, Clarice Smoker, Curtis McKay and Emma Gourneau — led basic horsemanship clinics for youth May 26-27 and a bronc riding school with Creighton Curley was held May 27-29.
Local organizers of Creator's Game horsemanship clinics hosted three events in May. More are planned throughout the summer.
Online registration for future events is available at spottedbull.org. Call Ernie Big Horn at 406-853-6631 for more information.