Posted on
Lustre News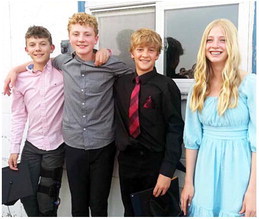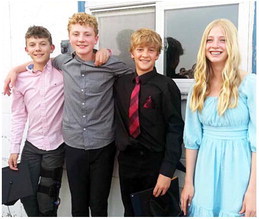 On Tuesday evening, May 23, graduation ceremonies at Lustre Grade School were held. Hadden Olfert, Cam Reddig, Preston Klatt and Lauren Holzrichter were presented by their classroom teacher, Mrs. Matthyser, who directed their attention to four year increments: fourth grade, eighth grade and high school graduation.
"You have four years left guys. Make it count! Get up, be kind and make a difference." Then she went on to tell us the very best aspects of each of her students: Holzrichter's love for books, ability to write and becoming a kind-hearted young woman, Klatt's ability to entertain in a good way, Reddig's respectful kindness and willingness to jump in to help and Olfert's "Heart of gold and sense of humor, with an inspiring example of loving your little sister." She encouraged each one to "hold onto things like these, for they make this crazy world a better place." Mr. John Dubois concurred with his comments.
The class chose as speaker, Lavonne Toews, their playground supervisor, as she had impacted them the most. She talked of the students' antics to keep warm in the long cold winter. She emphasized the group's kindness and athleticism, mentioning their achievements (district tournament championship, Academic Olympics, track championship). She read Jeremiah 29:11-15 and said, "God has a plan for each of you. It may not be easy, but keep on praying and trusting God. Seek Him. Behave. Give me a wave when you pass the playground. I'll be there."
Diplomas were presented by John Dubois and board chairman Bob Schiller. The class selected Dawson Olfert to pray a blessing over them, which ended the program.
The LGS summer concert Under the Sea was presented Friday, May 19, with the entire school in sea creatures costumes made by Prince Agbisit and Debbie Lenihan. The concert began with the 20 member band (7-8th), directed by Mr. Marasco, playing March Onward, Holiday Fantasy and Susa Spectacular.
The first and second graders sang Lava and Humble and Kind. Third and fourth graders sang True Colors and We're All in this Together.
Fifth and sixth performed
Here Comes the Sun by the Beatles and Mr. Blue Sky and a short play called Duck for President.
The seventh and eighth graders did a wonderful rendition of You are my Sunshine by Elizabeth Mitchell and Lean on Me by Bill Withers. The crowd gave the students a standing ovation at the finale. Dubois acknowledged all the people participating and commended Mr. Agbisit on encouraging the performing arts on the grade school level.
Services are pending for a long-time Lustre farmer, Gary Dahl, who passed away at Valley View Home in Glasgow on May 21. We give our condolences to his family.
The LGS awards ceremony was held before the end of school track meet, with citizenship awards going to Gavin Pancratz, Audrey Zerbe, Micah Zerbe and Piper Neufeld. Honor roll certificates recognized the academic achievements for many of the students. Antibullying T-shirts were gifted the student body to teach the importance of combating bullying. Mr. Dubois did a lesson on it so they could recognize it in relationships in the summer months. Medals were given by Mrs. Catell to the seventh-eightth grade students who were part of the choir that earned a first at the district music festival.