Posted on
Eastern C Track Team Enjoy Strong Showing At State Competition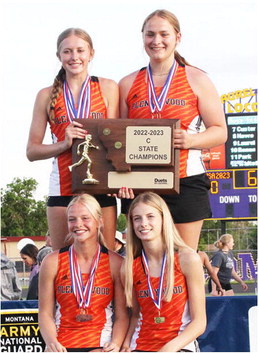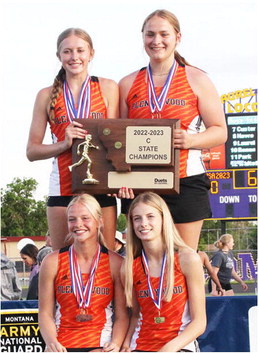 The Eastern C was a force in the girls' division during the Class C state track meet held in Laurel on Friday, May 26, and Saturday, May 27.
Plentywood repeated as state champions with 75.75 points. Manhattan Christian was second with 66 points.
Leading the Wildcats to the title were double-winners Annie Kaul in the 3200 (11:28.91) and pole vault (116) and Emma Brendsdal in the shot put (40-7) and discus (133-4). Audrey Sampsen cleared 5-4 for the title in the high jump. Mallory Tommerup placed third in the long jump, third in the triple jump and fourth in the high jump. Kaul finished second in the 1600.
Savage, meanwhile, earned the third-place trophy with 47 points. Scobey and Roberts tied for fourth with 44 points each.
Savage's Brooke Reuter finished first in the 100 (12.61) and 200 (25.55). Reuter, a junior, also placed third in the 400, fifth in the long jump and sixth in the triple jump.
Cambry Conradsen placed fourth in the 200 and fifth in the 100. Savage's 400-meter relay team of Teah Conradsen, C. Conradsen, Mylee Reuter and B. Reuter placed second. The 1600-meter relay team featuring the same girls finished fourth.
Other Eastern C athletes winning state titles were Saco's Blaine Downing in the pole vault, Whitewater's Shelbi LaBrie in the 1600, Scobey's Carrie Taylor in the javelin, Lustre's Jasiah Hambira in the high jump, Lustre's Johnslee Pierre in the 300-meter hurdles and Lustre's 400-meter relay team.
Lustre's boys placed fourth in the team standings.