Posted on
Trustees Approve Hiring Of Superintendent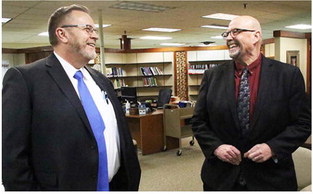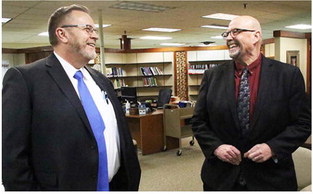 The Wolf Point School board unanimously approved offering David Perkins a three-year contract to be the school district's new superintendent after interviews on Wednesday, May 17.
Interviews of Perkins and Rodney Simpson were conducted by trustees during a public meeting.
The contract offered to Perkins includes a salary of $130,000.
Perkins has been the superintendent in Custer for 10 years. He also has a lot of educational experience in Texas including being selected the mentor network principal of the year.
The Custer native explained to trustees that he came back to Montana from Texas to help take care of his father.
"I'm not a mover," Perkins said. He noted that he wants to stay and make a difference at the place that he is serving. He looks forward to the challenges in Wolf Point.
He noted he will be very involved in the community. People will see him at games, other activities and being active with area clubs.
He feels communication is a key with the school board, community and parents. He isn't a "top down" person, he believes in working with people and not being a closed door superintendent, Perkins explained part of his success in Custer was being involved in many aspects including even driving an activity bus on occasion.
When asked what he hopes his major contribution will be as a superintendent, he answered unifying for a purpose and identifying where issues are to be fixed.
"If I'm successful, the kids are successful," Perkins said.
Also during the meeting, trustees approved purchasing three lots located behind the school district administration office. Total cost is $20,000. Possible usages of the property include housing for school staff in the future.
Trustees approved a new consultant contract for Redgrave Education. The motion passed 4-1 with trustee Michael Turcotte voting against.
Hired were Patricia Payne for Southside summer school cultural enrichment, Lori Sande for summer school teacher, Patrick Wilkinson for Southside head custodian and Traci West for winter and spring cheer coach, Resignations at the end of the school year were accepted from Northside teacher Shawn Erickson, high school teacher Jakilyn Harada and Southside teacher Judy Leddige.