Posted on
Toce-Blount, WindyBoy Lead Grads At Frazer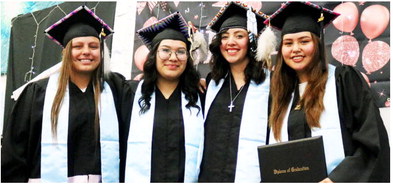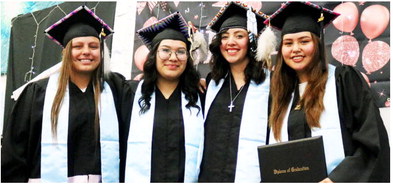 Frazer High School hosted a graduation ceremony May 19 in the school gym. Graduating seniors included Liana Jackson, Kacee Lilley, Alyssa Toce-Blount and Jazmyn WindyBoy The welcome address was delivered by former NFL player Levi Horn, member of the North Cheyenne. The commencement speech was delivered by Mark Mindt, an educator, comic book creator and member of the Spirit Lake Dakota Nation. The honor song was performed bv Nakoa Heavy Runner and Roger White.
Valedictorian Toce-Blount addressed the audience, as did Salutatorian WindyBoy.
Class of 2023 advisor Alex Hinchcliff told the Northern Plains Independent, "I have watched these students from their freshman year become wonderful young adults who are ready to take on any challenges. I am proud of my students and all that they have accomplished and overcome and I wish them the best in their next stage of life outside of high school."
There were six graduating eighth graders: Zayden Hentges, Chase Jackson, Kalissa Jackson, Merrick Old Person, Lola Romero and Adeline Smoker.