Posted on
Lustre Christian School Holds Graduation Ceremony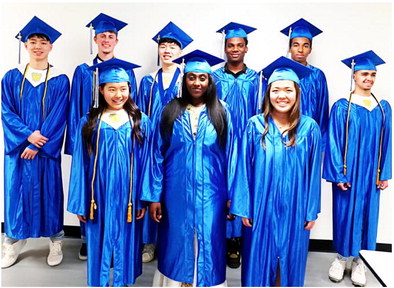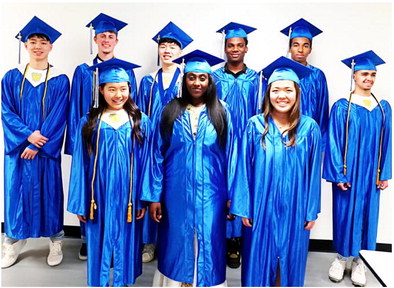 Lustre Christian High School's 2023 commencement was held Sunday, May 21, 2023. Processional and recessional music was provided by Mrs. Melissa Marasco. Cassidy Grider and Naveen Pillar were Honor Attendants.
Ric Catell introduced salutatorian, Elijah Lenihan. He talked of the classmates being there for each other, being a family (even though they came from Taiwan, Turks and Caicos, California, Japan, Ethiopia and Lustre). He encouraged his classmates to have good character and good work ethic, and to be godly men and women. He reminded them of "the firsts" they had experienced together, quoting Jasiah Hambira's words "Guys, it's the end of an era". "God bless you, and God bless America".
Alex Chen, valedictorian, told the crowd "It's not just about us. It's about our families. It's about God having a plan for us." He encouraged his classmates to trust in God's guidance, have faith in God and embrace the changes, because there's a time for everything. "There will be challenges and opportunities". He quoted Matthew 6:33 and told his classmates "Don't forget to keep God at the center of life, for the glory of God."
Austin Neufeld was chosen by the class to speak. He said when he graduated, his priorities were sports, family, work and lastly a relationship with God. He wanted to show them how important that order needed to change. He told them to step into Mr. Marasco's class and take one of his many quizzes when they thought they knew everything there was to know. His speech addressed the source of happiness, and his biggest goal for their class. He told of a graduate of LCHS, Josh Brown, who spoke about a mission in Haiti where he works, finding the happiest kids he had ever met: children with nothing but a chance to eat every other day, happy to walk miles to fetch water for their families.
Neufeld emphasized how seeking worldly things brings emptiness, and illustrated it with how quickly money and time goes on a vacation. His biggest goal for the class was to "be a light for Jesus". He told of a study that declares that we each meet around 10,000 people in our lifetime. He declared, "What an opportunity to be the reason for someone finding hope by being a light. Fully give yourself to God. Look for what you can do for others." He encouraged the graduates "to put your slippers way under the bed at night so you have to get on your knees to reach them in the morning. Then take a moment to say thank you for grace, mercy, understanding, wisdom, parents, kindness, humility and peace. He closed his speech with talking about priorities and keeping them where they ought to be.
Jodi Neufeld sang This is my wish which was full of good advice. Elijah Lenihan made the senior video that ended with the class motto: "How you deal with failure determines how you achieve success".
Guidance counselor Deborah Cattell announced scholarships and the graduates' plans. Gabe Alves will be entering the business world in Williston, N.D. Sally Arai intends to take nursing at the University of Michigan. Alex Chen will be entering pre-med studies, and has a $70,000 scholarship per year for undergraduate work. He has done an internship with a surgeon. His twin brother, Bryan, did a medical mission among the poverty stricken in Taiwan, and will be training to be a doctor in Rochester, N.Y., with a $70,000 scholarship per year. Braeden Ewing will study physical therapy at Montana State. Rodas Gebreyohannes will attend either the University of Colorado or a college in Seattle. She was part of chemistry clubs and played soccer. Jasiah Hambira distinguished his high school career with numerous track records. He plans on studying business and real estate, and has a cultural scholarship for 25 percent off tuition. Elijah Lenihan has begun a full-time on line business and You Tube career, was part of National Honor Soceity, All-State and Academic Olympics, and served in Awana, the MB church, and Beacon Bible Camp. Mana Okamota intends to do organic farming, and tutor others in English when she returns to Japan.
Diplomas were given by chairman Bill Reddig and Principal Ric Cattell. Frank Lenhan closed in prayer, thankful his son had classmates! He prayed a blessing of protection and watch-care over relationships, especially to "enjoy Your presence forever and ever". Guests were present from around the world: Ethiopia, Japan, and Turks and Caicos, California, Seattle Washington, the east coast.
Mr. & Mrs. Wilbur Unrau attended the graduation of their grandson, Creighton Kukula, son of Joe and Shonna Kukula last week in Newton, Kan.