Posted on
Family Believes In Military Service, Thankful For Soldiers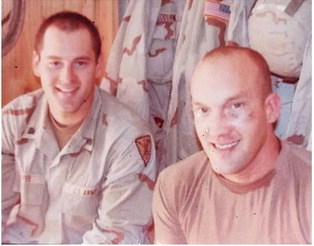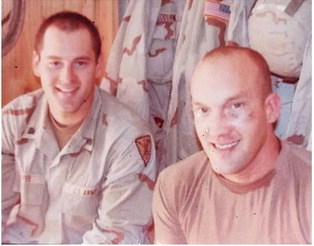 As the recognition of Memorial Day nears, many area residents take time to remember the ultimate sacrifice made to protect our country.
The Harris and Linda Pfeiffer family certainly makes sure to honor the memory of those Americans. The family has a history of military service with each of them and three of their sons making a commitment to the military.
"It means a lot," Harris said of Memorial Day. "It's important to keep military on top of our importance."
Linda added, "The flag means a lot to us, too." Harris said, "And our freedom."
Harris noted his father, Kenneth, was a World War II veteran and fought at the Battle of the Bulge.
Harris then served as a radio technician for the U.S. Army from 1968-1971. He was stationed in Germany during the Vietnam War time period.
Linda, meanwhile, completed basic training in Maryland for the U.S. Navy. She became a collections agent for the commissary.
"I carried a .45 and did payroll," Linda said.
She noted that two weeks after graduating from high school, she was attracted to join the Navy. "I saw a poster at the post office and felt it was cool."
Harris and Linda ended up meeting in Wolf Point. They have now been married for 50 years.
Each of their three sons, Rodell, Rylan and Rhandy, served in the military.
Rylan and Rhandy each completed two tours in Iraq. Each tour was about 18 months long.
"It wasn't a good place," Rylan said.
Part of his time was at the area where Saddam Hussein was captured. Rylan served with the 155 Infantry Unit as an Army scout.
He experienced many close calls during his time in Iraq.
"They call it the triangle of death," Rylan noted.
Rhandy was stationed in Baghdad for much of his service. His duties included being a guard for a first sergeant.
Sadly, Rylan and Rhandy lost quite a few buddies during their time in Iraq.
Harris explained that they would get phone calls to tell them, "your boys are fine, but there was an incident." Harris said, "Some of them were pretty big deals."
He said it's a helpless feeling as parents. "You pray and thank the Lord for keeping them safe. You really can't do anything."
They are thankful that their sons returned home safe. Rylan and Rhandy have suffered emotionally though. Rylan had a brain aneurysm and four strokes in 2015, but he has improved a great deal since that time.
On Memorial Day on Monday, May 29, the family remembers all those who gave the ultimate sacrifice.
"To serve our county is pretty darn good and important," Harris said. "We wouldn't have it any other way."