Posted on
Culbertson Students Receive Scholarships During Graduation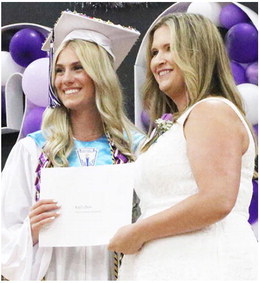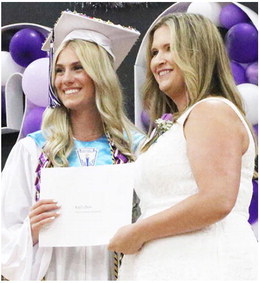 The following scholarship winners were announced during Culbertson High School's graduation: Culbertson Group Scholarship: The Culbertson Group was established in 2018 to support and promote athletic activity in the community. In 2018, the group hosted its first annual basketball tournament for grades fourth through 12. Funds raised during the three-day tournament are used to encourage and support a quality athletic program and thereby the enhancement of mind and body for all students athletes. This scholarship is awarded to: Colin Avance, Justice Bengochea, Alicyn Ator and Makena Hauge.
DUI Task Force Scholarship: The Roosevelt County DUI Task Force was created in 2014. In 2017, the DUI Task Force elected to start offering a scholarship to a graduating senior that attended a school in Roosevelt County. The original scholarship was written in such a way that one had to be personally affected by a DUI or impaired driving in some way. In the first two years of offering the scholarship, there were three and four applicants respectively. In 2019, the DUI Task Force considered changing the format of the scholarship to increase applicants. It was at this time the format was changed to allow graduating seniors to reflect on ways they avoided peer pressure and promote a positive and drug free life. The Roosevelt County DUI Task Force plans to continue offering annual scholarships to promote positive, drug free lives. This year's recipients are: Alicyn Ator and Noelle Wilson.
Froid Scholarship: The Froid Scholarship Tournament originated in 1984 as a tribute to Jeff Ryder. All profits from the tournament have gone into the Jeff Ryder Memorial Scholarship fund. Tremendous support throughout the years from surrounding communities as well as North Dakota and Canada, has given the fund enough base to award a scholarship to a surrounding high school graduate as well as a Froid High school graduate. This year, the Culbertson graduate application was accepted by the committee. Winner of the scholarship was Kayli Olson.
Gene Dillman: The Gene Dillman Memorial Scholarship was set up in honor of the former elementary principal who viewed education as the way to build a firm foundation to achieve your dreams. This year's recipient is: Alicyn Ator.
John D. Odegard Aerospace Academic Achievement Award: This award is given to a student who will attend the University of North Dakota who has achieved academic excellence and is majoring in aeronautical science. This scholarship for $11,000 is awarded to: Trevor Green.
Maude Schuetze: The Maude Schuetze Foundation has been established and funded with assets of the Maude M. Schuetze Estate. Maude was a member of numerous local organizations thus the foundation was established to perpetuate her plianthropic interest in the Culbertson area. Students receiving the scholarship of $1,000 were Perla Burciaga, Noelle Wilson, Kobe Nickoloff, Colin Avance, Kayli Olson, Justice Bengochea, Trevor Green, Alicyn Ator and Megan Granbois.
Millard E. Peterson" This scholarship is in honor of Mr. and Mrs. Lewis Peterson by their son Millard E. Peterson, who attended Culbertson High School. The scholarship award amount for this year is $5,000. Recipients are Alicyn Ator, Colin Avance, Justice Bengochea, Perla Burciaga, Tucker Finnicum, Megan Granbois, Trevor Green, Makena Hauge, Kobe Nickoloff, Kayli Olson, Payton Perkins and Noelle Wilson.
NCOA Scholarship: Established in 1970, its single purpose is to help dependents of Non Commissioned Officers Association members continue their education beyond high school. To date, the scholarship fund has awarded more than $1.5 million in non-repayable scholarships.T he recipient of this scholarship is awarded $500. Winner is Kayli Olson.
Nemont Cooperative Scholarship: Nemont is honored to recognize academic achievement and believes that supporting educational endeavors aids in strengthening our communities. Scholarships are awarded each spring and are open to high school, trade school, college and non-traditional students of cooperative members. This year's scholarship is awarded to Noelle Wilson Pederson, Fell, Hanson Scholarship: The Pederson, Fell Hanson Scholarship was established in 2021 in memory of Bryan Pederson, Caleb Fell and Joseph Hanson. Three special young men that were taken too soon. Bryan, Caleb and Joe each had dreams and ambitions that will forever remain unrealized. Their families have set up this yearly scholarship to help aid students attain their dreams and reach their full potential. Recipients are Justice Bengochea, Colin Avance and Noelle Wilson.
The Poff Family Scholarship: The Poff family scholarship was established in 2022 to honor the life of Bing and his son Gary Poff. Bing was raised on the family farm in the Girard community and truly enjoyed living and working on the farm. Gary was raised on the farm and took over operations when Bing retired. Bing and Gary both loved the challenge and the rewards that life on the farm gave them. They both loved to visit with the neighbors and were always there to lend a helping hand. This scholarship honoring their memory will be given to a student with a passion in an agriculture or 4-H program This year the scholarship is awarded to Alicyn Ator.
Roosevelt Memorial Healthcare Foundation Scholarship: The Roosevelt Memorial Healthcare Foundation serves the community by raising money to help support the program and equipment needs of Roosevelt Medical Center. The Foundation's mission is to enhance and secure the future of quality healthcare in our area. Every year the foundation provides several $500 scholarships to students interested in pursuing a career in healthcare who are graduating or who have graduated from the Culbertson, Froid and Bainville School districts. Students must be attending or planning on attending a two, or four-year accredited college or university and their field of study must impact the delivery of healthcare. Since the program began in 2010, more than $10,000 has been given in scholarships. This year, one student from Culbertson High School was selected as a $500 recipient. This student was selected for his dedication to academic achievement. Next year, he will attend the University of North Dakota to study aeronautical sciences and commercial aviation and plans to become an air-ambulance pilot to better serve our community. This year's RMHF scholarship recipient is Trevor Green.
The Sheridan Electric Electrician scholarship is awarded to a graduate of the Sheridan Electric service area. The applicant must carry a 2.5 or higher GPA in an electrician program of his/her choice. The funds cover tuition, basic tools and books, approximately $15,000 This scholarship has been awarded to Payton Perkins.