Posted on
Bainville Celebrates Nine Graduates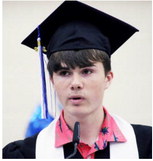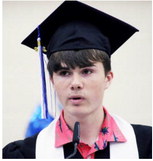 The Bainville Public School graduation ceremony was held at the school gymnasium May 13. Administration and trustees hosting the event included Principal Rhiannon Beery, Superintendent Darin Hannum, Dana Berwick, Christoper Hansen, John Gilligan, Tylaer Traeger and Neil Iversen.
The graduating class of 2023 included Adrian Anderson, Roger Butikofer, Kaden Goebel, Maddox Hansen, Jaseph Harob, Ayden Knudsen, Drae Nelson, Gwendolyn Norton and Sadie Ullmer.
"It was well attended," said Lori Holum Buxbaum, who was recording the event from the audience. "The kids and parents all seemed proud. It was a really nice day."
Following the processional, Sadie Ullmer welcomed the audience. Drae Nelson delivered the invocation. Salutatorian Kaden Goebel and valedictorian Ayden Knudsen each addressed the audience, as did guest speaker Elizabeth Standley.
The senior slideshow was prepared by Maddox Hansen and Lindsey Winn with Bainville Dollars For Scholars named alumni scholarships recipients.
The class of 2027 was presented, including Bridger Chandler, Lane Giese, Kalli Harmon, Kaston Hofeer, Rylan Iverson, Declan Janacaro, Azure Mahoney, Casey Myers, Rylie Nehring, Johnna Ryderrr, Adyson Telck, Owen Theige, Keagan Vaira and Haedyn Wills.
The class of 2035 was presented, including Harlow Allarrd, Bridger Anderson, Clair Cochran, Laurie Kay hauso, Audrrey Langley, Elora Mohr, Grant Mottl, Braxton Picard and Tyler Schmidt.
Cupcakes and refreshments were served in the cafeteria following the event.