Posted on
School Continues Search For New Superintendent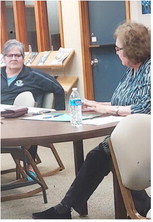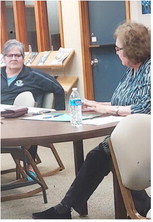 The Wolf Point School board agreed to work with the Montana School Board Association and continue its search for a new superintendent. Trustees unanimously passed a motion to re-advertise the position after two candidates withdrew their names from consideration.
Trustee Roxanne Gourneau made the motion, which was approved, to put the "baseline" at $120,000 to hopefully increase interest in the position.
"I personally feel that we need to secure somebody," Gourneau said.
Trustee Lanette Clark pointed out that housing is a concern.
"We want somebody who wants to be here, too," Gourneau added.
School superintendent Eileen Karge indicated that she will willing to return on a part-time basis next school year. She would like to work more days if the opportunity arises.
During her superintendent report, Karge stressed the need for a new elementary school in the school district. She envisions one school for pre-kindergarten through fifth grade and then Northside used for sixth through eighth grade.
Karge said school officials are looking at funding options. She added there have been discussions regarding a possible piece of land for a new school.
"It needs to be a plan for the near future," Karge said.
Another need is upgrading the science labs at the high school.
She noted these are big projects ahead for the school district.
"That's one of the reasons I want to stay," she said.
Karge said she considers bus driver Shawn Boysun a hero for his service when the tennis bus was involved in an accident on Saturday, April 1.
"We were so fortunate that he was the bus driver that day," Karge said.
She also commended coaches Dan Horsmon and Nichole Paulson for their behavior during the incident.
"We're so fortunate. Buses can be replaced, people can't," Karge said.
Purchases approved included $75,500 for a 2012 John Deere 6430 Premium Tractor, $12,254 for an auditorium door replacement, $10,539 for a high school wrestling mat, $17,777 for a shed at the track/football field and $6,999 for a Dr. Dish All Star-plus for basketball.
Resignations were accepted from John Gardner as health enhancement teacher, Thomas Ironshield as assistant custodian and Leonard Sandoval as head custodian.
Hired were Prescilla Mendez as Southside teacher, Cheryl LaRoque as Northside paraprofessional and Lana Fourstar as Northside paraprofessional.