Posted on
Frontier's Museum Educates Parents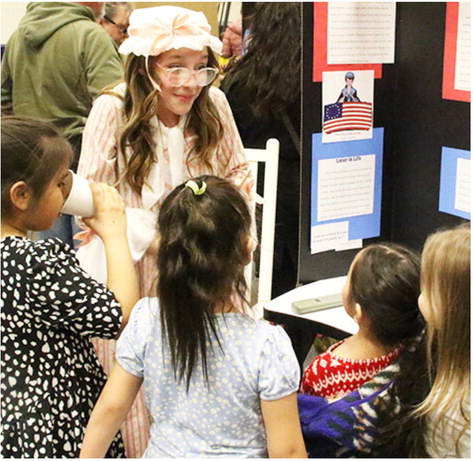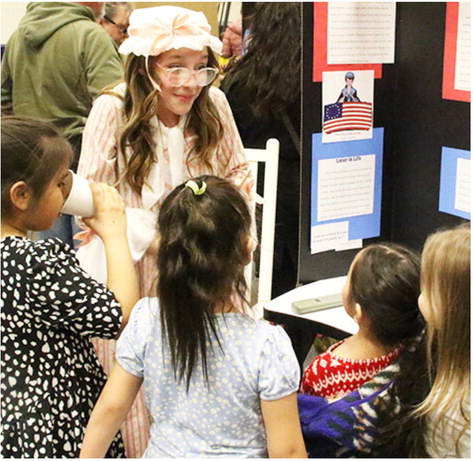 Historical figures visited Frontier School during a wax museum presented for parents and community members on Tuesday, April 4.
Superintendent Patrick Drapeau said the event is part of the school's personalized learning instruction.
Teachers Tina Strauser, Darla Warrior and Marianne Rees were among the educational leaders for the project.
"It's a complete school effort," Strauser said. "All our teachers are here. I love this event."
She noted the "Good Vibes" name for activities came from current eighth-grade student William Benton as students are able to display their various talents for the public.
She said the idea for the wax museum came about two years ago when she discovered during parent/ teacher conferences that some parents don't realize all the abilities of children in the area.
"We need to start displaying the talents of our students," she said.
The wax museum featured fifth through eighth graders and their essays about famous individuals. The museum was divided between fifth grade for the American Revolution, sixth grade for World War I and II, seventh grade for ancient China and eighth grade for civil rights.
Teachers said most of the students were working on the projects since late February.
Strauser noted how impressed she is with Frontier students' writing abilities.
"They are writing 12th-grade level papers," she said.
In addition, in a separate room, the work of kindergarten through fourth-grade students was displayed. Also available were cookies and hot drinks in the "Good Vibes" cafe.
One of the most busy stops in the wax museum was fifth-grader Kenzley Copenhaver as Betsy Ross.
"She seemed interesting," Copenhaver said of why she selected Ross as her subject.
As far as her costume, Copenhaver noted, "I looked at old photos. I then ordered it online."
Wyatt Big Talk, a sixth-grade student, was pleased with his selection of Thomas Edison for the event.
"He was really famous," Big Talk said. "He made the first light bulb and the phonograph."
Xaden Goodtrack, a fifth-grade student, portrayed Benjamin Franklin near the entrance of the wax museum.
"Everybody stole my other ones so I had do to him," Goodtrack said.
He ended up admiring Benjamin Franklin. He thought it was interesting that Franklin had 16 siblings.
Kailayla Villaluz was excited to provide information about Pauli Murray. The eighth-grade student explained that Murray made big contributions for civil rights and was one of the 12 founders of the National Organization for Women.
Villaluz said that Murray made a difference through words and peaceful sit-ins.
"She proved peaceful protesters can change things," Villaluz said. "I like to learn about famous people."