Posted on
Saunder St. Marks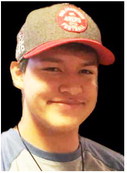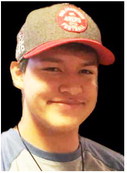 Saunder Nyles St. Marks, Magazhu Kmunga Hokshina, Rainbow Boy, 24, died Sunday, March 26, 2023.
Her was born on March 9, 1999, in Wolf Point to Sonya Smoker and Jamie St. Marks. Not only was he their only son, but he was their pride and joy. He was a big brother to his baby sisters Kaylandra (KJ) Smoker-St. Marks and DeShaya Smoker and a little brother to Amanda St. Marks.
He attended and graduated in 2017 from Frazer High School with honors as salutatorian. He was very athletic and played many sports in high school. He excelled in football and basketball. He had many accolades throughout his high school career which included All-State Honorable Mention in Football 2015-16, First Team All-Conference in basketball and football 2015-16 and 201617, voted Football Teammate of the Year for the Wolf Point Wolves 2015-16, First Team All-State in both football & basketball 2016-17, selected to play in the 29th annual Class B All Star game, selected to play in the Senior Classic All Star basketball game and selected for Second Team All Star. He was an All-time career three-point baskets made regardless of classification and was inducted to the Frazer Bearcubs Wall of Fame 2016-17.
Family was very important to him and he cherished the fact that he came from a big family. He enjoyed family gatherings especially barbecues and Sunday dinners and loved Thanksgiving and Christmastimes together. Although family was important to him, he had many friends he also considered his family