Posted on
Parents and grandparents, teachers and ….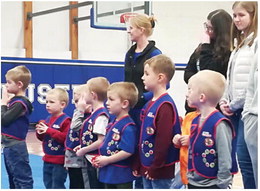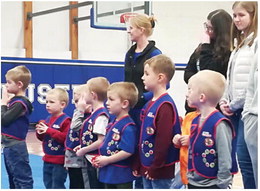 Parents and grandparents, teachers and friends gathered Wednesday, March 29, at the Lustre Christian High School gymnasium for the Awana Awards night that ends their year. Commander Dawson Olfert welcomed everyone and reviewed the principles of Awana's memorization program and explaining that "Awana stands for 'Approved Workmen Are Not Ashamed' from II Timothy 2:15.
Jennifer Zerbe, with Jodi Neufeld and volunteer LCHS students, led the Cubbies in games and memory work this year. The group sang the Cubbie's theme song for the audience. Zerbe gave the nine Cubbies in their blue vests their awards.
Ashley Pankratz gave awards to seven children in their Sparkie red vests. They earned awards for completing their first book, second book and one fellow earned his Sparkie plaque for completing three books of memory verses.
Susan Fast led the Truth and Training group of girls, aided by Gretchen Schiller and Yvonne Brown. There were six girls in the group, wearing green vests with patches earned for activities on their shoulders and sleeves. There are four awards that can be earned in this group: Alpha, Excellence, Challenge and the final one a trophy that is called the Timothy Award. One earned the Alpha Award and three earned the Excellence Award for successful completion of two handbooks. One student earned the Challenge and another the Timothy Award. It means they learned many verses.
Michael Brown and his helpers had eight boys in Truth and Training age group wearing green vests. He presented awards to each one and also Excellence Awards to two. He thanked Etta Olfert and Sarah Brown for leading music for each of the groups.
Jerry Fast led the group of seventh and eighth graders (wearing navy blue) with a good bunch of leaders who helped to listen to the memory work done by the older group. This is the area where their review pays off and they graduate from the program. All eight of the eighth graders won their meritorious awards.
Dawson Olfert completed the evening with an emphasis on "the value of putting the Word of God into the hearts of youth" and gave examples of how it helped him.