Posted on
Lustre News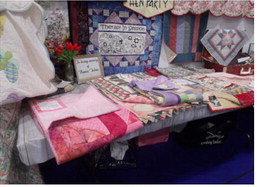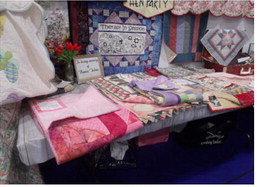 The heavens were alive with northern lights on Thursday evening, March 23, in Lustre and it was a treat to see.
The 58th annual Lustre Schmeckfest was held Friday, March 24, and it truly was memorable. "Dedicated to 'Our Heavenly Quilters' (Gladys Fast, Carol Neufeld, Eunice Wiens), the community paid tribute to three longtime loved ones who were known for their quilting and had passed away in the past year. The displays of their handiwork, gifted to grandchildren, friends, or made for special occasions such as weddings, were on display and extended the length of the gym and then some. First-timers were treated to a genuine quilt display with great beauty.
Other displays included artwork done by the grades 4-8 in genres of ink drawings, dioramas, vases, sand art and curled paper arts. The fourth graders had a table with baking and crafts. The high school art class, dorm students, sports teams all had displays, thoughtfully presented.
An auction featured a Herringbone Russian Olive Coffee Table made by John Toews, Harvest Gold stained glass made by Joan Unger, A quilt poster called All For THE One made by Carma Bartel, a Sean R. Heavey portrait titled Barbed Buffalo, A sunshine"queen quilt hand quilted by the MB church ladies, a gun safe, a Log Cabin Star quilt donated by Lighthouse quilting on behalf of the EMB ladies, a 1904 Brydecliffe Linen Press crafted by Keith Unger, and Dawn's Early Light Hand tooled leather work by Dan Reddig.
All of these donated items by local artists were beautiful. There were crocheted items, beautiful table runners and many table decorations available for purchase. An online auction and buy it now tables also made for a successful fundraiser for the school.
The LCHS band played The Piper and the Captain
I and II. The MB Quartet sang This World is Not My Home. The LCHS choir sang My Country Tis of Thee. Lisa Neufeld and Mindy Olfert did a fun drama written by Al Leland called Who's On Bake Sale fashioned after Abbot and Costello. Alan Kliewer closed the program with a song dedicated to the Lustre Lions basketball team called Sometimes Alleluia. It was reported that nearly 650 people were served.
Folks came from Arizona, Mississippi, Minnesota, Colorado, Idaho, Washington, Oregon, Wyoming, Texas and various parts of Montana to attend the memorial service of Eunice Wiens. It was held Sunday at the Lustre EMB Church and officiated by John (Sharon) Skillman of Churchill. His message centered on Psalm 1. Attending from Bill's family were his sisters, Elizabeth of Wickenberg, Ariz., and Vern and Mary Jane Ratzlaff of Monmouth, Ore.,, as well as a niece and nephew, (Bob) and Penny Norman of Lustre and Steve and Amy Ratzlaf of Mississippi. The eulogy was read by her brother, Doug Toavs and music provided by recordings from her brother, ArLynn Toavs' albums. Siblings to Eunice attending were Florence Funk, Merle Toavs, Warren Toavs, Phillip Toavs and Doug Toavs. Unable to attend was Dwight.
Many friends, including quilters in her classes came to honor her life well-lived. She was a former cook at the Lustre Grade School.