Posted on
Lustre Christian Makes First Appearance At State Tournament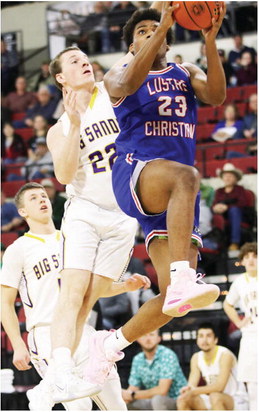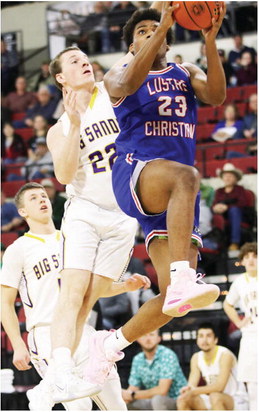 In their first game at the state basketball tournament in the school's history, Lustre Christian came up short against Big Sandy, 60-47, in Billings on Thursday, March 9.
The Lions were never completely able to recover from a slow start in the opening-round contest. The Pioneers jumped out to a 13-3 lead in the contest. The outside shooting of Clay Reddig and Elijah Lenihan helped Lustre close the margin to 17-10 at the end of the first quarter.
Big Sandy, on the hot shooting of Braydon Cline, earned a 32-17 advantage late in the second quarter. The Lions ended the half on a high note when Lenihan and Cayden Klatt connected on consecutive three-pointers to pull to 32-23.
Two baskets by Braden Ewing and a baseline shot by Jasiah Hambira closed the gap to only 38-34 with 1:33 left in the third quarter. Big Sandy held on for a 44-37 lead at the end of the quarter.
Two baskets by Cline and a free throw by Kody Strutz put Big Sandy up 49-37 to open the fourth quarter.
The Lions were able to battle back to 51-42 on a three-pointer by Lenihan and a baseline shot by Johnslee Pierre.
The Lions got as close as 53-47 on a three-pointer by Reddig with 1:39 remaining, but Lustre was held scoreless the rest of the way.
Top scorers for the Lions were Lenihan with 15 and Reddig with 11 points. Also scoring were Klatt with six, Braeden Ewing with five, Hambira with four, Pierre with four and Byron Ewing with two points.
Klatt had five assists in the contest.
Cline led the Pioneers with 28 points. Issac Pedaza added 11 points.
Big Sandy hit 18 of its 30 free-throw attempts compared to Lustre's one of four tries.