Posted on
Lions Edge Savage In Overtime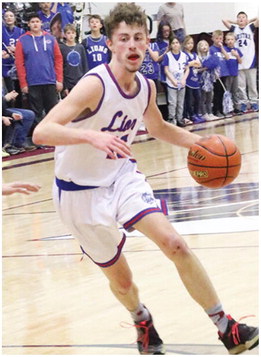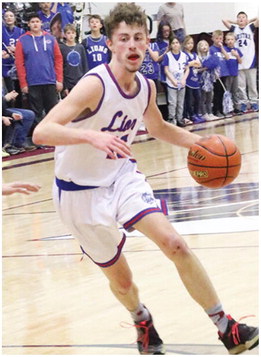 Lustre Christian survived an upset bid from Savage and posted a 48-44 overtime win in the first round of the Eastern C boys' basketball tournament on Thursday, March 2.
Savage, the fourth seed from District 2C, grabbed a 40-38 lead on a three-pointer by Sayer Erickson with only 48 seconds remaining in regulation.
A basket off a rebound by Lustre's Byron Ewing tied the game, 40-40, with 33 seconds left. After the Warriors missed a three-point attempt, Lustre also came up short on a chance for the potential game winning shot.
In overtime, the Warriors went ahead again on a basket by Zane Pilgeram at the 3:32 mark. The Lions' Elijah Lenihan quickly responded with a 16-footer to produce a 42-42 deadlock.
After Savage's Hunter Riding and Hunter Sanders hit free throws, the Lions pulled even at 42-42 on a hoop by Braden Ewing off a pass from Cayden Klatt with 1:05 remaining.
Lustre then forced a turnover and went ahead on a baseline jumper by Jasiah Hambira. After the Warriors missed a shot, Hambira scored again for a 48-44 lead with only 11 seconds left.
Top scorers for Lustre were Klatt with 15, Lenihan with 10, Braden Ewing with nine and Hambira with eight.
Rounding out the scoring were Bryon Ewing with four, Clay Reddig with four, Bryan Chen with two and Johnslee Pierre with two points.
Byron Ewing finished with eight rebounds.
Savage's top scorers were Erickson with 15, Pilgeram with nine, Cade Tombre with eight and Sanders with seven.
Sanders accounted for nine rebounds and three assists.
The hot shooting of Klatt led the Lions to a 20-11 advantage in the first quarter. Lustre held a 22-16 advantage until the Warriors ran off the final 11 points of the half for a 27-22 lead.
Lustre tied the game, 29-29, on a steal and drive by Lenihan with 4:26 remaining in the third quarter. Savage led 35-33 at the end of the third quarter.