Posted on
Bulldogs Fall To Scobey, 48-46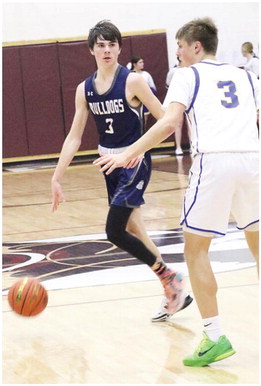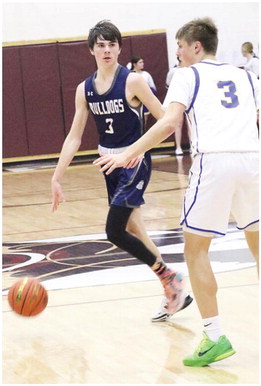 The Bainville Bulldogs lost a heart-breaker against Scobey during the first round of the Eastern C divisional boys' basketball tournament in Wolf Point on Thursday, March 2.
With the game deadlocked at 46-46, Scobey pulled out the victory, 48-46, when Bram Handran connected from the baseline as time expired.
The underdog Bainville squad trailed 39-37 entering the fourth period but earned a quick lead on a steal and coast-to-coast drive by Charles Butikofer and a basket by Sam Butikofer to open the fourth quarter.
After a drive by Handran put the Spartans back ahead at the 4:57 mark, C. Butikofer accounted for a three-point lead for a 44-43 advantage for the Bulldogs.
The score was even at 4444 when C. Butikofer scored off a pass from Alex Strickland with 2:05 remaining. Handran tied the contest on a fast-break basket with a minute in the contest.
After the Bulldogs missed on two shot attempts, Scobey held the ball for the final 23 seconds until Handran hit the game-winning shot.
Reaching double figures for the Bulldogs were C. Butikofer with 13, Strickland with 11 and Ayden Knudsen with 10 points.
Also scoring were S. Butikofer with eight and Reese Harmon with four points.
Leading Scobey were Handran with 21 points and John Carney with 12 points including three three-pointers.
Two three-pointer by Strickland and four points by C. Butikofer led the Bulldogs to a 14-6 lead in the first quarter.
Bainville led by a 23-22 half-time margin, but the Spartans earned a 28-24 advantage three minutes into the half.
Knudsen then got the hot hand for the Bulldogs as the senior struck for eight straight points, including two three-pointers, to put Bainville ahead 32-28. The shooting of Carney led Scobey to a two-point lead at the end of the period.