Posted on
Missoula Children's Theatre Attracts Good Participation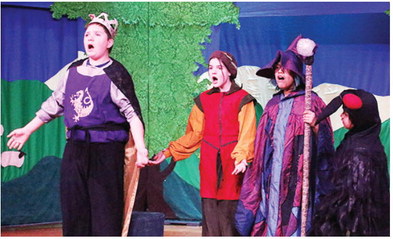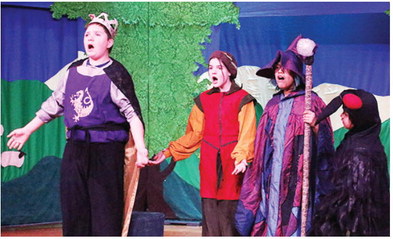 More than 40 local youngsters took part in the Missoula Children's Theatre's performance in Wolf Point on Saturday, Feb. 25.
Helen Welte, one of the local organizers of the event, said the amount was similar to other years for firstthrough eighth-grade students. A fun addition was having high school students Tavian Bell and Chase Adams fill needed roles.
The young actors practiced throughout the week in preparation for Saturday afternoon's performance of King Arthur's Quest.
The Missoula Children's Theatre is celebrating its 50th year of touring schools. The tour is sponsored by Cosmic Crisp.
Tour director/actor was Charrey Honkanen. Cayla Hall performed several roles. Assistant directors were Sequoyah Hotomanie and Jazzmyn Martell-Robinson. Welte served as an accompanist. Patricia Toavs worked as a local organizer to make the performance possible.
Local sponsors included the Wolf Point Education Association. Jan Bryan served as the host for the MCT actors. The Wolf Point Optimist Club provided the meal on Friday, Feb. 24.
Local actors in the presentation included Christian Brock, Sophia Four Bear, Andreus Kirk, Jennifer Brown, Emily Allrunner-Hernandez, McKinlee Paulson, Rylan Campbell, Caylene Welch, Stephanie Martell, Arabella Castro-Stretches, Brayden Azure, Aailyah White, Kymani Archambault, Brooklyn Turcotte, Kennessa Cochran, Amaire White Horse, Honour Gustafson, Cheyanne Bouldin, Maxxie Demarrias, Aubriana Birsdsbill, Kiara Russell, Tetsuo Darnell, Haeli Clark, Kimimila Pipestem-Blus Earth, Laylah Gustafson, Daniel Martin, Rachael Pipestem, Brooklyn Bearcub, Skye Fast Horse, Evelyn Turcotte, Amara Peterson, Jeremiyah Birdsbill, Tetsuo Darnell, Josiyah Birdsbill, Mia Thomas, Xaniyah Birdsbill, Jayvian Joe, Maia Mc-Gowan, Kenzly Moran-Clark, Eva Kurokawa and Lillian Gustafson.