Posted on
Lady Wolves Qualify For State Tournament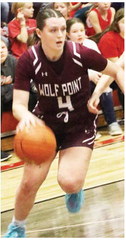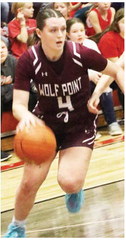 The Wolf Point Wolves dialed in on a few long distance calls to turn the game around and earn a state berth by beating Glasgow, 50-41, in the challenge game of the Northern B divisional girls' basketball tournament in Glasgow on Monday, Feb, 27.
The Wolves, who lost to Malta in the divisional title contest, trailed by a 2013 margin early in the third quarter, but hot shooting and pressure defense resulted in the next nine points. Sierra Hamilton got the run going with a pair of free throws. After a steal by Hamilton, Juellz Bauer connected from threepoint range. A free throw by KJ. St. Marks cut the margin to 20-19, and the Wolves then grabbed the lead on a three-pointer by Katelyn MacDonald.
After a three-pointer by Glasgow, Bauer kept providing the Wolves with a spark with another three-pointer. A three-pointer by Azalei Ackerman put Wolf Point ahead 28-24. A basket by Bauer off a pass from Ackerman helped Wolf Point earn a 30-28 lead at the end of the third quarter.
Glasgow moved back ahead early in the fourth quarter, but Wolf Point's seniors then stepped up in a big way. Two three-pointers by St. Marks and another long shot by J'Elle Garfield produced a 3631 advantage with 4:44 left.
The Scotties were able to battle back to 41-37, but Mac-Donald, also a senior, then drove in for a key hoop with 2:16 remaining. A drive by Hamilton and a pair of free throws by St. Marks kept the Wolves ahead 47-41 with under a minute remaining.
After Hamilton made a great block of a shot, St. Marks added a free throw for a 48-41 lead with only 32 seconds remaining. MacDonald scored the final basket with 11 seconds left.
Top scorers for the Wolves were St. Marks with 12, Mac-Donald with 11, Garfield with nine and Bauer with eight points.
Also scoring for Wolf Point were Hamilton with six, Ackerman with three and Mahala Moran with one points.
Leading Glasgow were Mayzie Yoakam with 17, Daley Aune with 11 and Carly Nelson with eight points.
The game was deadlocked at 6-6 at the end of the first quarter, but Glasgow scored the last five points of the half for an 18-13 advantage.