Posted on
Culbertson Holds County Spelling Bee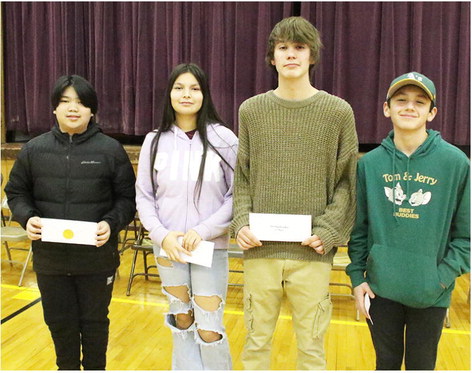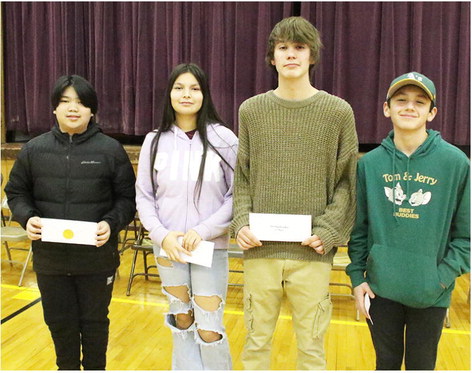 Jairo Tumonong repeated as the county champion during the Roosevelt County spelling bee held in Culbertson on Wednesday, Feb. 22.
Tumonong was the only one of eight students to answer correctly during the third round of the bee that featured students from Bainville, Brockton, Culbertson, Froid, Frontier, Poplar and Wolf Point. The competition is for fourth through eighth graders.
"It was similar to last year," Tumonong said when asked to compare his titles.
The state bee is scheduled for March 11 in Bozeman.
"My goal is to win state and then make it far at nationals," Tumonong said.
Aiyanna Eder of Brockton earned second-place honors at the county bee.
Jonas York of Culbertson captured third place.
Placing fourth was Stephen Smoker of Poplar.
During the first round of competition, 11 contestants misspelled words. In the second round, 14 more students were unable to advance.
Students who qualified for the county bee included: Bainville: Casey Myers, Noah Hauge, Hyrum Powell, Rylan Iverson and Tenley Berwick.
Brockton: Aiyanna Eder, Ryley Eder, Ceaser Shyface, Preston Beston and Soni Ownspipe.
Culbertson: Anna Steppler, Colt'n Rees, Jonas York, Beau Becker and Brooks Solem.
Froid: Rylan Young, Eli James, Avrie Nordlund, Camri Salvevold and Taven Jochim.
Frontier: William Benton, Keynen Grandchamp, Sophia Crawford, Trenton McCarty and Reed Garfield.
Poplar: River Olson, Kelbee Redstone, Stephen Smoker, Jacob Rollins and Tori Dimas.
Wolf Point: Jairo Tumonong, Ezekial Gourneau, Adonis Kirk, Owen Moran and Brandalyn Martell.
Alternatives were Sawyer Myers, Lilah Drum, Aeryn Ator, Ryder Westlund, Deyston Deserly, Keyden Beston, Charlie Headdress and Aleigha Bear.
Christina Olson served as the master of ceremonies and recorder. Rhonda Seitz was a pronouncer. Judges were Amy Berwick, Courtney Forbregd and Lora Finnicum.