Posted on
Cowgirls Ending Basketball Careers On Strong Note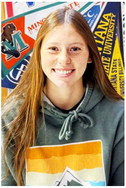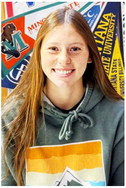 Four senior girls that have made great contributions to Culbertson's basketball program during their careers are ending their careers with their most success.
The Cowgirls earned second place in both the league standings and at the district tournament. A large part of the reason for the success has been the play of seniors Megan Granbois, Alicyn Ator, Perla Burciaga and Makena Hauge. The Eastern C divisional tournament is March 1-4 in Wolf Point.
Ator, Hauge and Granbois started to hit the court already in the third grade under the guidance of coach Gene Marchwick.
"We were always winning tournaments that we played in," Hauge said.
The girls also shared fun memories of overnight trips and learning how to roller skate in Glendive.
The girls laughed that they haven't changed a whole lot during the years.
"I was even shorter then than I am now," Ator, a guard, said. "We've all improved, but I didn't become a post by any means."
Burciaga, meanwhile, started playing the sport in Culbertson as a seventh grader. "I have definitely gotten better since then."
Among their accomplishments have been qualifying for the divisional tournament three times out of the last four years. They agree that this has been their most successful season on the basketball court. The season has been highlighted by beating MonDak in the semi-final round of the District 2C tournament.
There has been great team chemistry this season. There have been few disagreements, only a rare incident here or there during tense games.
They tease how much certain players spend on the court's floor after diving for the ball or being knocked down.
"Perla and Destiny (Thompson) like to be on the floor most of the time," Hauge laughed.
Burciaga joked, "I love the floor."
They share a recent event when Burciaga and assistant coach Sabrina Labatte both ended up on the floor together during a drill.
The girls are aiming to stand tall during the divisional tournament. The Cowgirls face Lustre in the first round at 4:30 p.m. on Wednesday, March 1.
"We want to play as hard as we can and try to make it to State," Hauge said.
They appreciate the support they have received from the fans throughout the season.
"The boys have been crazy. It gets us going," Ator said.
"They make me laugh," Burciaga added.