Posted on
Poplar Girls Advance With Win Over Harlem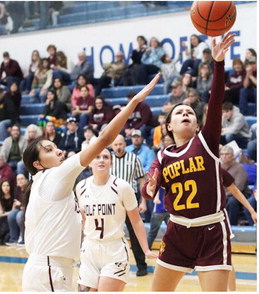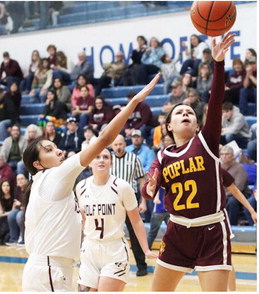 Poplar's girls' basketball team qualified for the divisional tournament by defeating Harlem, 59-42, at the District 2B tournament in Malta on Friday, Feb. 17.
The Indians scored 24 points in the fourth quarter to pull away for the victory. Cammie Martell and Morgen Nordwick each had five points in the period.
The Indians trailed 10-9 at the end of the first quarter. Poplar scored 15 points in the second period for a 24-20 lead.
Poplar outscored Harlem, 11-9, in the third quarter.
M. Nordwick led the Indians with 18 points. C. Martell added 11 points. Rikki Belton and Derilyn Hopkins added eight points each.
Also scoring were Jazmyn Carrywater with six, Mattie Falls Down with four, Bailey Dupree with three and Braelyn Nordwick with one point.
Aaraya Mouat scored 11 and Emma Billmayer added nine for Harlem.