Posted on
Lustre Beats Scobey, 38-37, To Earn District 3C Crown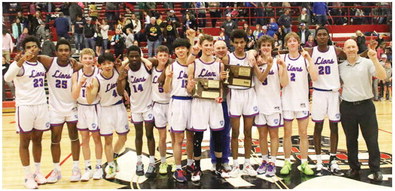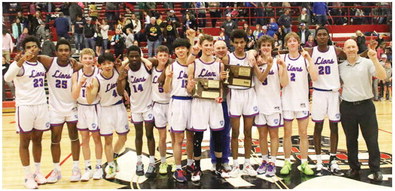 Lustre's boys' basketball team trailed for most of the District 3C championship game against Scobey on Saturday, Feb. 18. Scobey's leads included being ahead by a 3324 early in the fourth quarter, but the Lions didn't panic and earned a 38-37 victory.
"There was always a little nervousness, but we kept our composure and got the win," Cayden Klatt said after the victory.
Klatt accounted for the winning basket when he hit a 15-footer to put the Lions ahead, 38-36, with 51 seconds remaining.
"I thought there were about two minutes left. Then I saw 50 seconds on the clock, and felt all right let's D up," Klatt said. "I want to give all the glory to God. That's who we play for."
The victory marked Lustre's first district championship since 2014.
Coach Randy Reddig didn't have a simple explanation of what turned the tide in the game. "They did a great job against us. We finally matched their energy," Reddig said.
Trailing by nine points in the fourth quarter, the Lions started their comeback with a three-pointer by Klatt and a drive by Elijah Lenihan with 5:18 left.
After Scobey's Braun Handran hit a free throw with 4:13 remaining, Lustre's Byron Ewing scored off a rebound to close the margin to 36-31 with 3:37 remaining. Another three-pointer by Klatt pulled the Lions to 36-34 with 2:58 left.
Clay Reddig accounted for a steal and two free throws to produce a 36-36 deadlock with 2:02 remaining in the championship battle.
After Klatt's go-ahead basket, the Spartans' John Carney hit a free throw with 37 seconds left. Scobey's final three-point attempt missed as time ran out.
Lustre's top scorers were Klatt with 10, Lenihan with seven and Jasiah Hambira with seven points.
Also scoring were Reddig with six, Byron Ewing with four, Braden Ewing with three and Alex Chen with a point.
Leading Scobey were Carney with 13, Braxton Wolfe with eight and Handran with eight points.
The Spartans jumped out to a 14-7 lead in the first quarter and held a 16-14 half-time margin.
The scoring of Hambira and Lenihan put the Lions ahead during the third quarter, but the Spartans struck for the final eight points of the quarter including six on two three-pointers by Carney for a 29-22 advantage.
The Eastern C divisional tournament will take place in Wolf Point on March 1-4.