Posted on
Lions Plays Strong Role In Community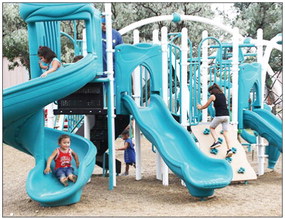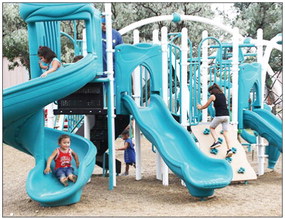 The Wolf Point Lions Club continues to play a very important role in the community.
If there is any question of the club's importance, you can just ask area children who can now enjoy the new playground equipment at Borge Park thanks to the Lions and community support.
The Wolf Point Lions Club's members began conversations to start the project of raising funds for much-needed new playground equipment for the park about three years ago.
A dedication ceremony for the playground was held at the park in August.
"It was a very good project," Wolf Point Lions Club president Dave Fyfe said. "I'm glad that we got it done."
The Lions Club meets every Thursday, between Labor Day to Memorial Day, starting at noon at the Sherman Inn. There are currently 36 members in the Wolf Point club.
Fyfe joined the organization 32 years ago and has served as president for the past several years.
"I enjoy it. The brotherhood is great," Fyfe said. "It's really rewarding when you volunteer for people."
Other officers are Carolyn Rees as vice president, Sharla Bushman as secretary, Gary Johnson as treasurer and Dennis Heser as Lion tamer.
Activities throughout the year include its annual pancake breakfast during the first week of May, a tradition that began in 1959.
The club also sells NFL books as a fundraiser.
Community services includes cooking meals for the hospitality room at sports tournaments and breakfast for contestants at the Wild Horse Stampede.
"We have a couple of guys who do it faithfully," Fyfe said.
The club also cleans a twomile long ditch east of Wolf Point. Another activity is teaming up with Walleyes Unlimited to judge the annual Christmas lighting contest.
Each February, members of the Lions Club presents U.S. flags to local first graders and teach them about patriotism.
In addition, the local Lions send glasses to a regional office to have new frames put on. The Lions also provide hearing aids and eye tests to people who can't afford them. The Lions Club donates to the Montana State Hearing Foundation.
"It's a good organization," Fyfe added.
The club, like many volunteer organizations, could use the assistance of some younger individuals to join its ranks.
There are more than 48,000 Lions clubs around the world. Each is filled with people who have decided to take action and serve others. Lions form unique friendships and meaningful connections that can last a lifetime.
Anyone interested in joining the Wolf Point Lions Club can contact any member or come to a Thursday noon meeting at the Sherman Inn.