Posted on
Lady Wolves Qualify For Divisional With Victory Over Poplar, 64-56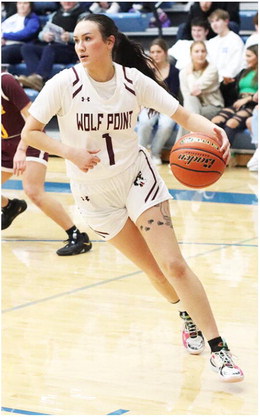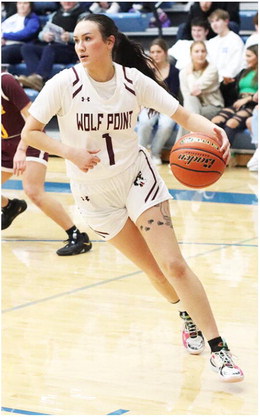 The Wolf Point Wolves put together a 9-0 run in the fourth quarter to edge Poplar, 64-56, in the first round of the District 2B girls' basketball tournament in Malta on Thursday, Feb. 16.
The Wolves trailed 46-43 after three quarters of play, but Wolf Point battled back to a 53-53 deadlock on the scoring of J'Elle Garfield and KJ St. Marks.
Wolf Point took a 55-53 lead on a basket by Sierra Hamilton. After a steal by St. Marks, a hoop by Keeley Blount-Henderson put the margin at 57-53.
Garfield then accounted for a steal and two free throws. St. Marks followed by connecting from three-point range for a 62-53 advantage with 2:40 remaining.
A basket by EmmaRae Martell got the Indians to 62-56 in the final minute, but Garfield hit two free tosses with 11 seconds left.
Wolf Point's top scorers were Garfield with 21 and St. Marks with 20 points. St. Marks hit six three-pointers in the victory.
Hamilton added 11 points. Also scoring were Blount-Henderson with nine and Juellz Bauer with three points.
Morgen Nordwick accounted for 25 of Poplar's points. She made four three-pointers in the contest.
Rounding out the scoring for the Indians were Mattie Falls Down with nine, Cammie Martell with eight, Braelyn Nordwick with five, E. Martell with four, Rikki Belton with four and Kessee Erickson with one point.
Wolf Point jumped out to a 15-7 lead in the first quarter. Poplar battled back in the second period on the threepoint shooting of C. Martell and M. Nordwick to earn a 29-26 half-time advantage.
The scoring of Garfield and three-point shooting of St. Marks put the Wolves back ahead in the third quarter, but M. Nordwick scored 12 points in the quarter to put the Indians up at the end of the period.