Posted on
Bushman Receives Lifesaving Award From Montana Chapter Of Red Cross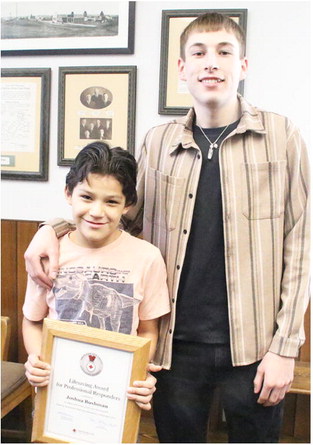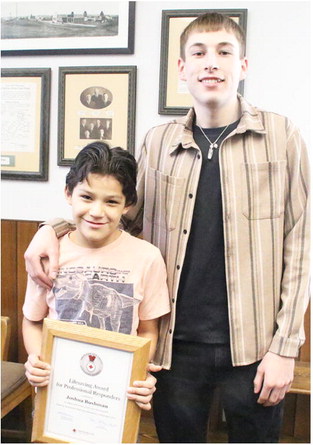 The Montana Chapter of the American Red Cross honored a young Wolf Point man for his efforts in saving a local boy last summer.
Joshua Bushman, one of Wolf Point's senior lifeguards, stepped into action when the boy was struggling at Wolf Point's swimming pool on June 11, 2022.
Bushman was presented the Red Cross Lifesaving Award.
"He's a true Red Cross hero," chapter chairman Craig Stahlberg said.
He added, "Heroes like Josh illustrate what the American Red Cross is all about. Josh you truly embody the Red Cross spirit."
After another lifeguard scooped the boy out of the water, Bushman used CPR on the boy.
At the ceremony, parents Chad Welch and Johnna Welch thanked Bushman for his quick actions.
"We're very thankful for what you did that day," Chad said. "You're very appreciated."
Later, Johnna said, "I do appreciate him for bringing my baby back."
Recreation director Dan Horsmon said a photo of Bushman would be put up in the pool building.
"Josh will be a role model to the rest of our lifeguards," Horsmon said.
Wolf Point Mayor Chris Dschaak said at the presentation, "Because you acted as fast and as you did, we literally have a kid still standing here today."
Last summer was Bushman's fourth year as a lifeguard at Wolf Point's pool. He has gone through lifeguard training and has earned CPR certification twice.
"It was very scary. I was shaking afterwards," Bushman said last summer about the incident. "He was unconscious when we got him out of the pool. He wasn't breathing."
Bushman said he's not sure how he was able to stay calm during the time.
"I've never been through a situation like that. I was just really glad that I was there," Bushman said.
All of Wolf Point's lifeguards are trained in CPR First Aid.