Posted on
Bradford Johnson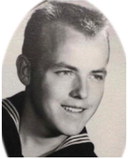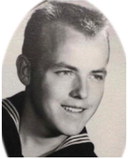 Bradford Scott Johnson, 86, Plentywood died Feb. 11, 2023.
He was born to Millard and Sigrid Johnson in Culbertson on Nov. 5, 1936. He was their first-born child and was raised in Poplar. He spent his early years following his father around the family farm. By age 17, he leased his own land and began his lifelong farming career. In high school, he participated in wrestling, football and band where he was known by his circle of friends as Scotty. Together, they also enjoyed swimming, ice skating, hunting, archery and fishing.
He attended college at Northern Montana College in Havre where he met Delores Juliuson who captured and kept his heart. He courted her by mail as he traveled for naval training to Norman, Okla., and Memphis, Tenn. The young couple married and moved to Coronado, Calif., where he served in the Navy at the North Island Naval Base with the All Weather Fighter Squadron 3. Their first child, Torey, was born during their time in Coronado.
Upon his release from the Navy, they returned to Montana and farming. During this period of time in Poplar, they added two more children to the family, Jody and Brad. In addition to farming, he also owned and ran the hardware store. Surrounded by family and friends, the days in Poplar were filled with snowmobiling, ice skating and swimming on the river, holiday celebrations and laughter.
In 1975, the family moved to Plentywood where he spent the rest of his life. He became active in city government which ignited his passion for politics. Plentywood gained a proud Republican who loudly shared his views with the members of his coffee club, a good neighbor who enjoyed checking on his friends during his daily drives, a pilot who loved the excitement of aerial spraying and the satisfaction of instructing flight students, an adventurer who would land a plane anywhere to inspect a site and search for artifacts, a farmer who loved his land, and a grandfather who shared all of the above and more with his three grandsons.
He was preceded in death by his brother, Gary; sister, Vera; and son, Brad.
He is survived by his wife of 63 years, Delores; children Torey Houtz and Jody Paulson; three grandchildren; and sister, Florice Coiro.
Per his wishes, no services are planned. A private celebration of life is pending.