Posted on
Bigger Sky Kids Provide Positive Message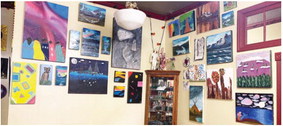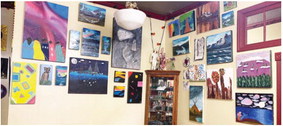 A positive learning environment is offered after school in Wolf Point three days a week. Many students love the sense of accomplishment they can obtain through art instruction and projects. With only so much time available in a school day, those students might not experience as much as they wish in art instruction. With those challenges in mind, a group of women worked toward establishing Bigger Sky Kids in Wolf Point.
The program started in 2017 and is now enjoying consistent success. Barb Olson, program director, along with a sister and a cousin came up with the idea to provide the art-based offering in Wolf Point.
"We talked about how the enjoyment found in art was very limited in the schools because of time restraints," Olson explained. "We thought we could do something after school."
The sister, who lives in Seattle, Wash., and the distant cousin, who resides in New Zealand but has Wolf Point ties, combined their skills to make that goal a reality.
Olson retired from teaching in 2021 after a career in Wolf Point. Her sister, who has a strong background in fund-raising, was able to attract many corporate donors to support the program. There are also important local sponsors including the Wolf Point Elks Lodge and First Lutheran Church, who provides a low rental rent for the group to use the church's education center.
Corporate donations have included $23,550 from the Dennis and Phyllis Washington Foundation in February 2021 that will fully fund instructor Cathryn Reitler McIntyre's class in studio art for three years. In January 2021, the MDU Resources Foundation provided a grant in support of Nakoda dance, stories and history. The MDU award matches the Montana Art Council's grant of July 2020 which funded 50 percent of the project cost. Montana Arts Council provided an artist in community grant for 2021, in support of McIntyre. The Montana Dakota Utilities announced in January of 2020 a $3,900 match for the Montana Art Council's grant for McIntyre.
The Roosevelt County Community Foundation, via the Montana Community Foundation, awarded a $955 grant for the purchase of computer-related equipment. The funds were used to acquire a secure laptop storage unit and Microsoft pens.
In September, 2019, Bigger Sky Kids received a $9,000 grant from the Montana Community Foundation at the recommendation of the advisory donor board of the Western Bank of Wolf Point Endowment Fund. In 2018, Big Sky Kids was awarded $10,364 through the foundation. The Wolf Point Community Organization presented a check of $3,000 in October 2019 for four digital pianos and for art supplies. The staff of the Wolf Point branch of First Community Bank gave $500 to the after-school program in November 2019.
"We also received many smaller but generous individual donations from current and former Wolf Point residents as well as our family members and friends," Olson said.
Otto Osen, program coordinator, is the only individual who gets paid for the program. All other leaders are volunteers.
There are 50 students registered for Bigger Sky Kids. Daily average attendance is about 30 students. Many of the students are in the fourth grade this year. The program, for fourth through eighth graders, is active after school on Mondays, Tuesdays and Thursdays. The program saw a record turnout of 44 students in mid January.
Goals of the program include helping students: explore and express their creativity through visual arts, music, dance, drama and more; experience domestic arts such as cooking, sewing, and gardening; and acquire computer literacy and other life skills. Art work by students features painting, bead work and jewelry and building Legos. Cooking and Native American language classes have also been parts of the instruction.
Instructors include Cathryn Reitler McIntyre of Glasgow who comes to the facility once a week. She teaches foundational studio art at Bigger Sky Kids. She has previously worked with the Montana Office of Public Instruction and with the Fort Peck Community College, and has taught classes in Poplar, Brockton, Nashua and Frazer. The class, which focuses in oil and watercolor, has become a mainstay in the Bigger Sky Kids' visual arts program. Another activity offered is playing board games.
Students are greeted each of the days with a meal, which might included grilled cheese, spaghetti, soup, hot dogs or sandwiches. Olson noted that many of the students are hungry after not eating since noon and can use a snack.