Posted on
Louise Ell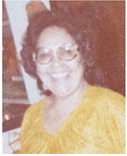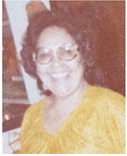 Louise Ell, 81, of Poplar died Sunday, Feb. 5, 2023.
She was born to Thomas and Mary (Wakan) Buckles on March 13, 1940, in Poplar. Growing up, she attended Poplar School.
She met and later married Richard "Dicky" Sutherland Sr. They had five children together. She lived in Glasgow for several years and worked as a housekeeper at the military apartments. As she worked, she received her GED.
She later married Leon Ell and moved to California, but it was brief. After her divorce, she moved back to Poplar where she met and married Leonard Youngman. They lived on Red Thunder Road, together raising their grandchildren and great-grandchildren.
She worked as a clinical health representative driver starting in 1979 until 2004. That same year, she went to the diabetic outreach program as a worker there for over a year. She retired after working for the Fort Peck Tribes for over 26 years.
She always had one of her grandchildren with her when she would travel. Most of her traveling was to Rocky Boy, where half of her children, grandchildren, great-grandchildren and great-greatgrandchild resides. Other than visiting family, she would attend shurch revivals throughout Indian country. She would attend the local pow-wow celebrations watching her grandchildren dance.
She was known for her laughter ,always smiling and bring joy to those around her. Her life motto to her relatives was, "No matter what's going on pray, just pray!" She spoke fluent Dakota. She baked pies, dried meat and created beautiful star quilts and star quilt pillow tops. She was one of the first fancy shawl dancers on the Fort Peck Reservation.
She is survived by her sister, Gloria Chopper; adopted sisters, Janis White Eagle and Iola Scott; children, Connie Jones, Cheryl Sutherland, Harold "Mr. Dean" Sutherland and Sandra Sutherland; and numerous grandchildren, great-grandchildren and great-great-grandchildren.
She was preceded in death by her siblings, Lorraine Red Dog, Raymond Buckles, Arthur Buckles and Pearl Hopkins; son, Richard Sutherland Jr.; grandchildren, Richard "DickyBob" Brown, Andre Good Soldier, Richard "Richey" Sutherland, Zachary Sutherland, Quinn Bighorn, Sean Bighorn and Trevor Harrison; and husband, Leonard Youngman.
Funeral services were held Monday, Feb. 13, at the Poplar Cultural Center. Interment followed at Box Elder Cemetery. Clayton Stevenson Memorial Chapel was entrusted with arrangements.